News
Design Review Board meeting canceled following resignations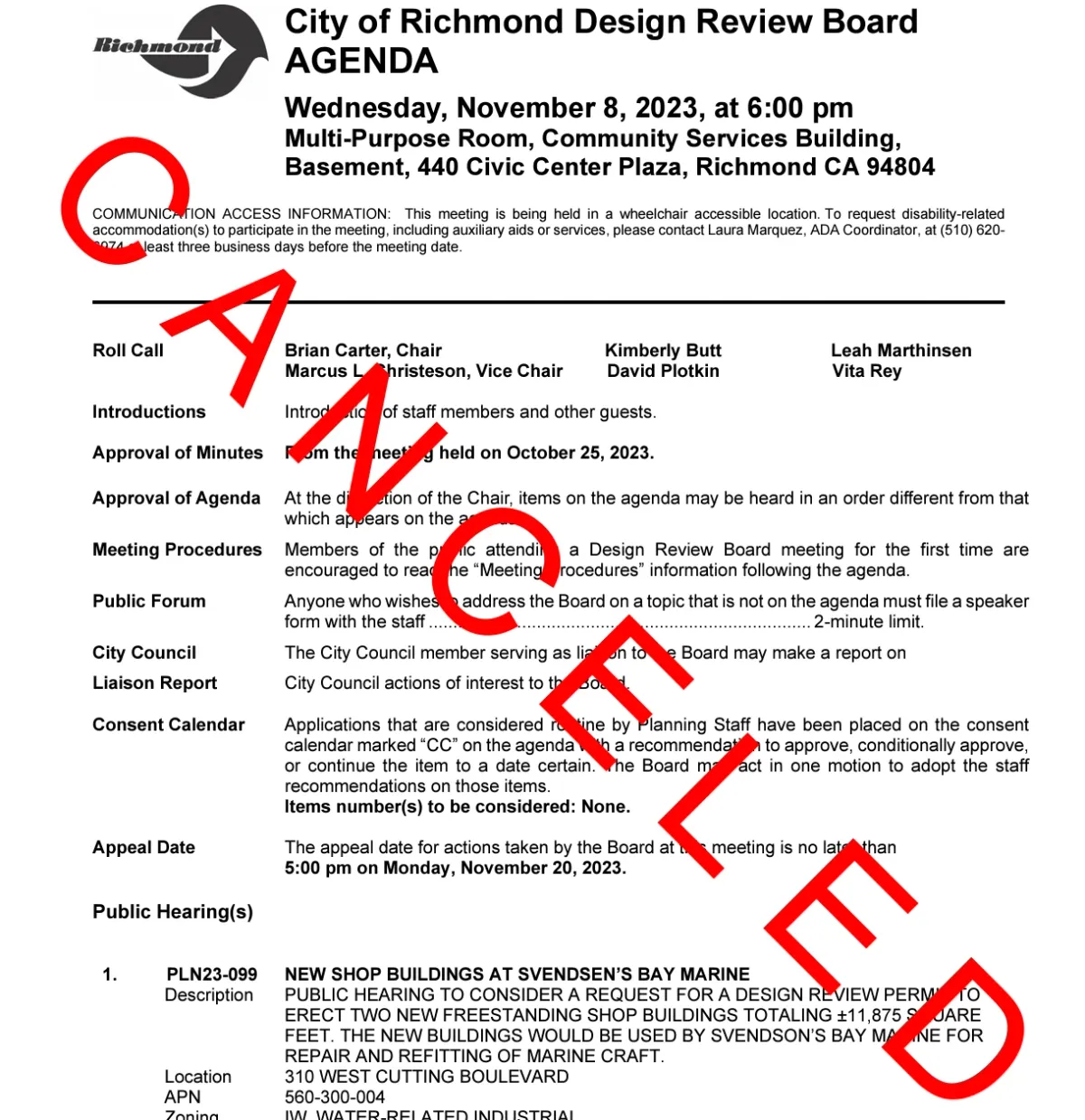 The Richmond Design Review Board meeting was canceled for lack of a quorum last week following the resignation of its two members in protest of the council's condemnation of Israel.
The board is responsible for making decisions on the design of new Richmond development projects and most exterior changes to existing buildings. It also acts as an advisory body to the planning commission in cases involving land use decisions.
Only four authorized members remain after Design Review Board members resigned last week. To create a quorum, the minimum number of members present to hold the meeting, all four remaining members must attend the meeting, which did not happen.
The board was scheduled to hold public hearings to consider new shop buildings at Svendsen's Bay Marine at 310 West Cutting Blvd. and a two-story addition at Catahoula Coffee Company at 12472 San Pablo Ave.
The owner of Catahoula requested a design review permit to construct a two-story, 1,680-square-foot addition behind the existing Catahoula Coffee Shop. The addition would include a garage, office space, and storage, featuring two charging stations for delivery vans.
A Svendsen's Bay Marine proposal to build two new shop buildings totaling 11,875 square feet to repair and refit marine craft was also on the agenda. The proposed project would allow Svendsen's Bay Marine to expand their operations during the rainy season. According to city staff, it will also provide environmental benefits as many outdoor boat repair and refitting activities will be relocated indoors.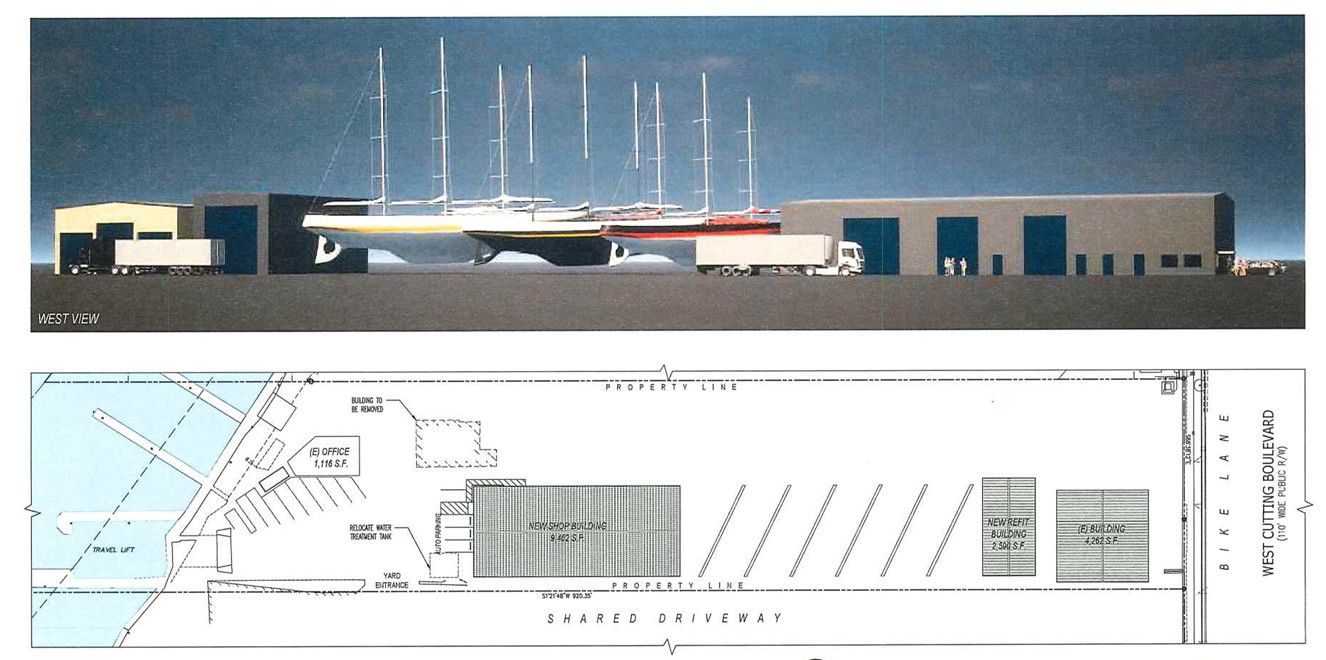 Leah Marthinsen, who was appointed to the board by former Mayor Tom Butt in November 2022, said she resigned her position following the Richmond City Council's resolution condemning Israel, which she called offensive, biased, and inflammatory.
"Personally, as a Jewish person and a committed Richmond resident, I'm hurt and saddened to be making this choice. I am unable to continue to support an administration that chooses incendiary and divisive grandstanding over inclusiveness and the well-being of all our community members," Marthinsen wrote.
David Plotkin, who said he proudly voted for Eduardo Marinez and was appointed by the mayor in March, said he could no longer serve the city as a result of the passage of the resolution.
"The resolution clearly isolates and endangers the Jewish community in Richmond, which includes my family. My children do not feel safe in their own home," Plotkin wrote in his resignation letter.
Plotkin said elected leaders of Richmond do not care about bringing our community together.
"I cannot be a party to such cancerous behavior. Instead, I will turn my energy toward rallying with my friends and neighbors, inside and outside of the Jewish community, to ensure that a more humane mayor and city council are elected to lead our once welcoming and progressive Richmond community," Plotkin said.
The mayor's office recently condemned youth-led Richmond Pulse, and student publication Richmond Confidential on Instagram over their coverage of the resignations.
On Instagram, the mayor's staff said they were deeply disappointed with the Pulse article and questioned the lack of coverage of violent threats of sexual assault and the release of private information of city council members and city staff.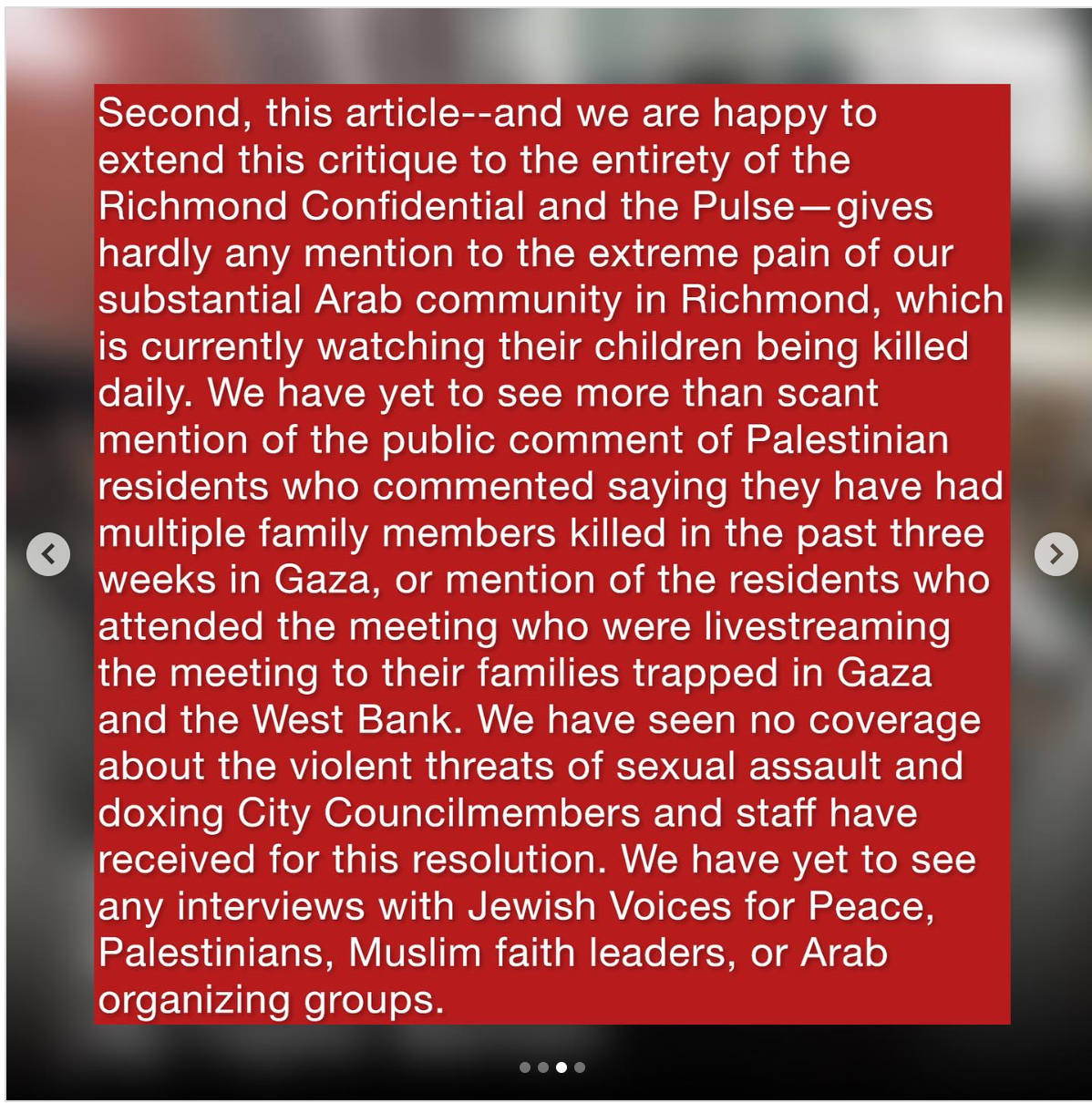 Mayor Martinez and the mayor's staff did not respond to requests for more information about the alleged threats.
City staff hopes to have a special Design Review Board meeting on Wednesday, November 29, pending the members' availability.
---
Help keep our content free for all!
Click to become a Grandview Supporter here. Grandview is an independent, journalist-run publication exclusively covering Richmond, CA. Copyright © 2023 Grandview Independent, all rights reserved.