News
Rich City Rides marks Richmond Bridge Trail anniversary with community ride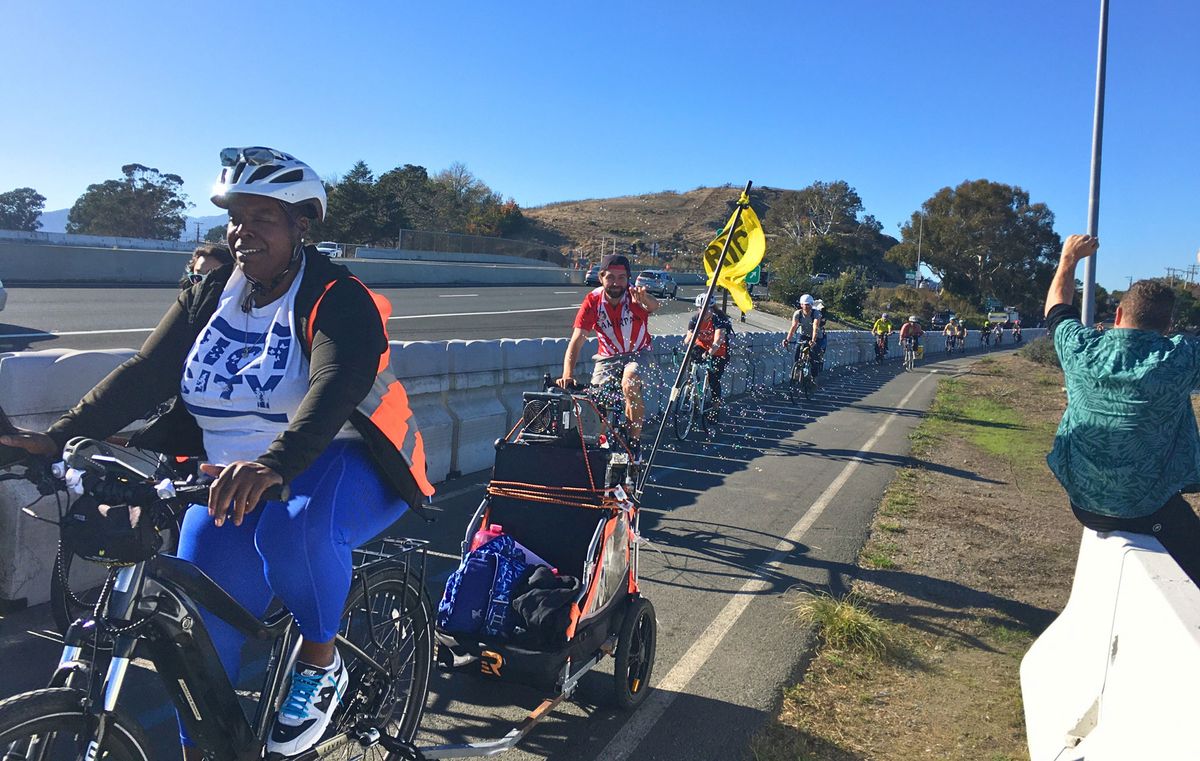 Rich City Rides hosted a 4th-anniversary bike ride on Saturday to celebrate the Richmond Bridge Trail and advocate for its preservation. The ride drew hundreds of cyclists who rode through Richmond, across the bridge, and back.
Najari Smith, Executive Director of Rich City Rides, said that in order to get people to stop driving cars and start using other forms of healthy, green, and sustainable transportation, we need to build the infrastructure to support it.
"We know that making the bike path more accessible to more people is important because more cars are not going to reduce our carbon footprint," Smith said at the Richmond Bart station before the noon ride. "We have to have projects, programs, and activities that get people to use that infrastructure, and that's what we do here at Rich City Rides."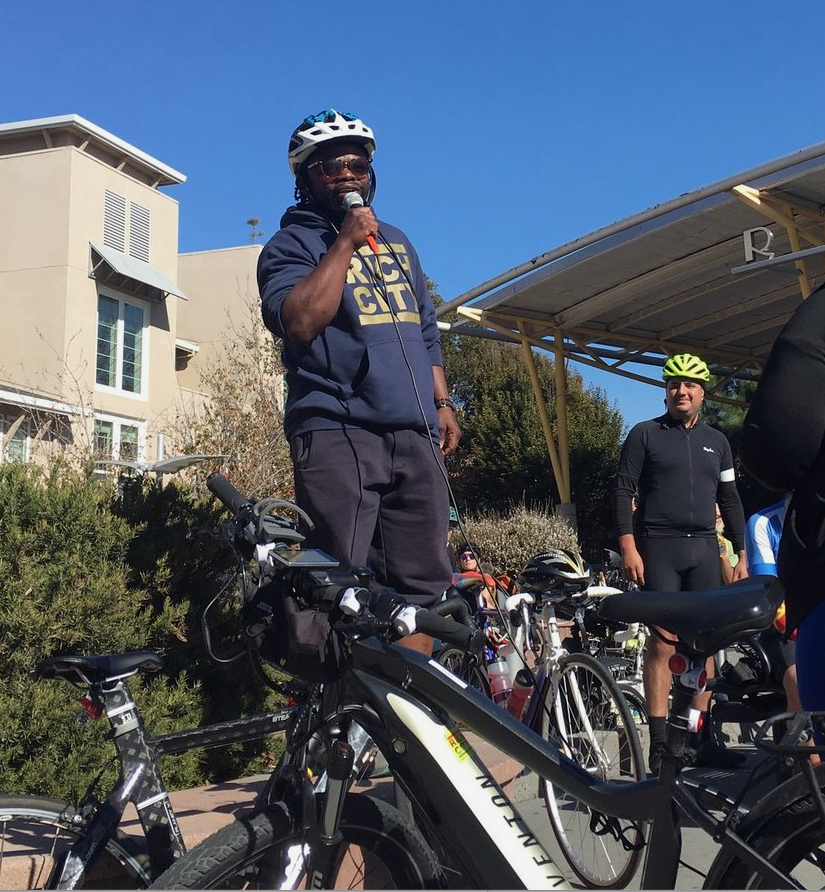 Smith encouraged the hundreds of ride participants to help connect all trails to create a healthy bay area.
"Let's use all the energy we have right now to make sure that that bike path doesn't go away but is made more inviting and more accessible," Smith said.
Maria Weatherborne, who led Saturday's ride across the bridge, said she wanted to demonstrate that cyclists are using the Richmond Bridge trail.
"We want to show them that we are utilizing it. Not just for cyclists but for folks who want to get well, who want to explore and see different parts of the bay area on a bike versus a car," Weatherborne said. "We are lessening the footprint on the environment by doing this ride and going across the bridge.
The scenic 23.5-mile ride to Marin and back included a stop at the Rosie the Riveter National Historical Park and East Brother Beer for a little celebration once back in Richmond.
The stop at the Rosie the Riveter National Park included a brief history lesson that acknowledged Richmond's ship-building past and the role "Rosie's" played in the war effort.
"Today is Veterans Day, and we want to acknowledge those who have helped protect us and keep us safe," Weatherborne said.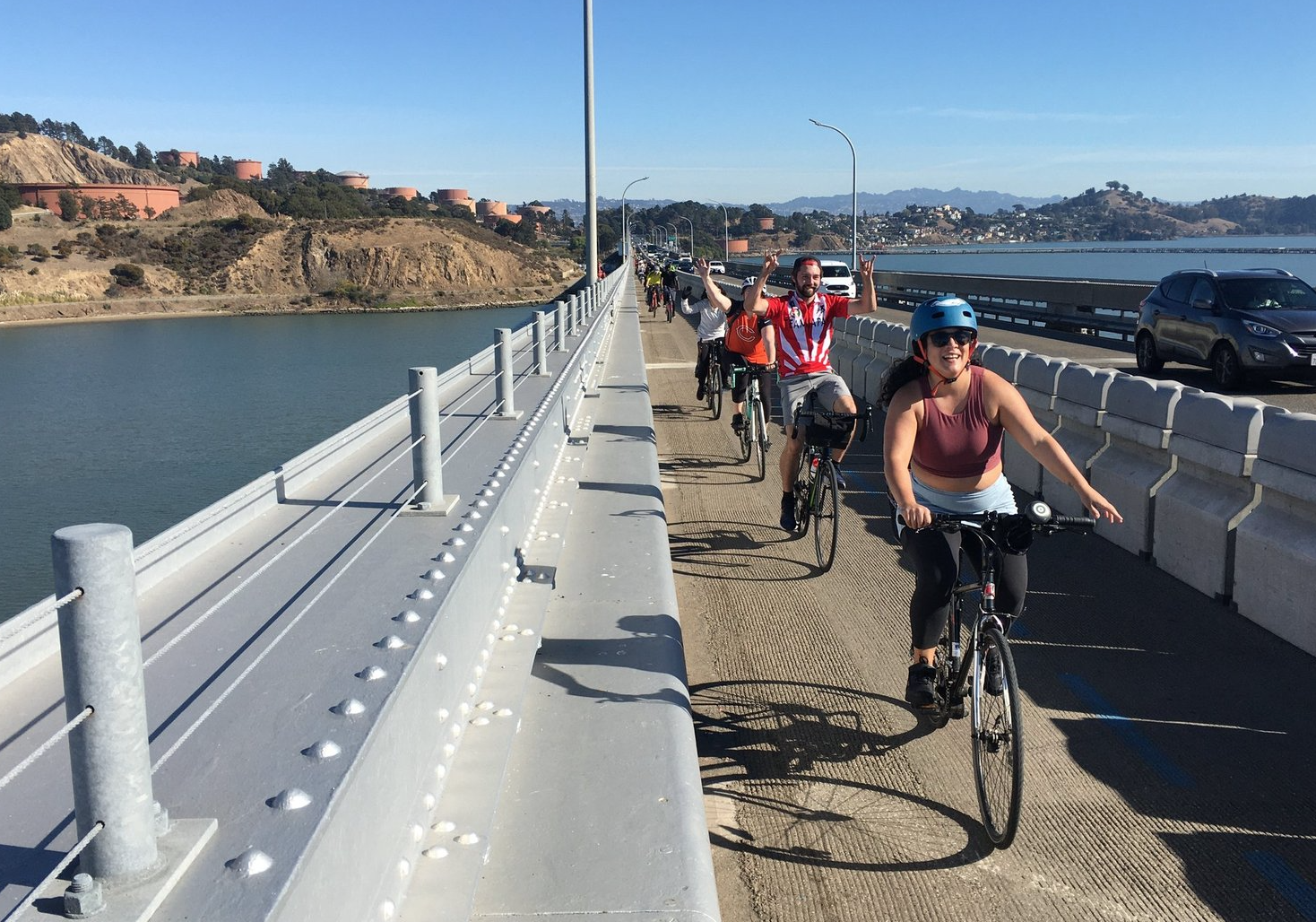 The Richmond San Rafael Bridge Trail has been debated for years, with some arguing that it has led to increased traffic congestion and pollution. However, a recent Bay Area Toll Authority Oversight Committee report found no evidence to support these claims.
The report outlined the initiatives to improve traffic flow on westbound 580, including open road tolling with the removal of toll booth structures, extension of the HOV lane from Regatta Boulevard to the bridge, redesign of the Richmond Parkway interchange, and improvements to transit and bicycle infrastructure, according to Trails for Richmond Action Committee Chair Bruce Beyaert.
"The report and presentation demonstrate that there is no basis for the Bay Area Council's claims that westbound traffic congestion has increased since the opening of the Richmond San Rafael Bridge Trail or that opening a third lane to motor vehicles on the bridge would improve air quality," Beyaert said.
Beyaert said converting the trail to a third westbound traffic lane was rejected due to the high costs required in Marin to avoid traffic backing up onto the bridge and the increased vehicle miles traveled that would result if those expenditures were made with more air pollution in Richmond.
The Bay Area Council is leading a campaign to open a third westbound lane to cars. Under the banner Commonsense Transportation Coalition, the council sent mailers to Richmond residents and paid for Facebook and YouTube ads.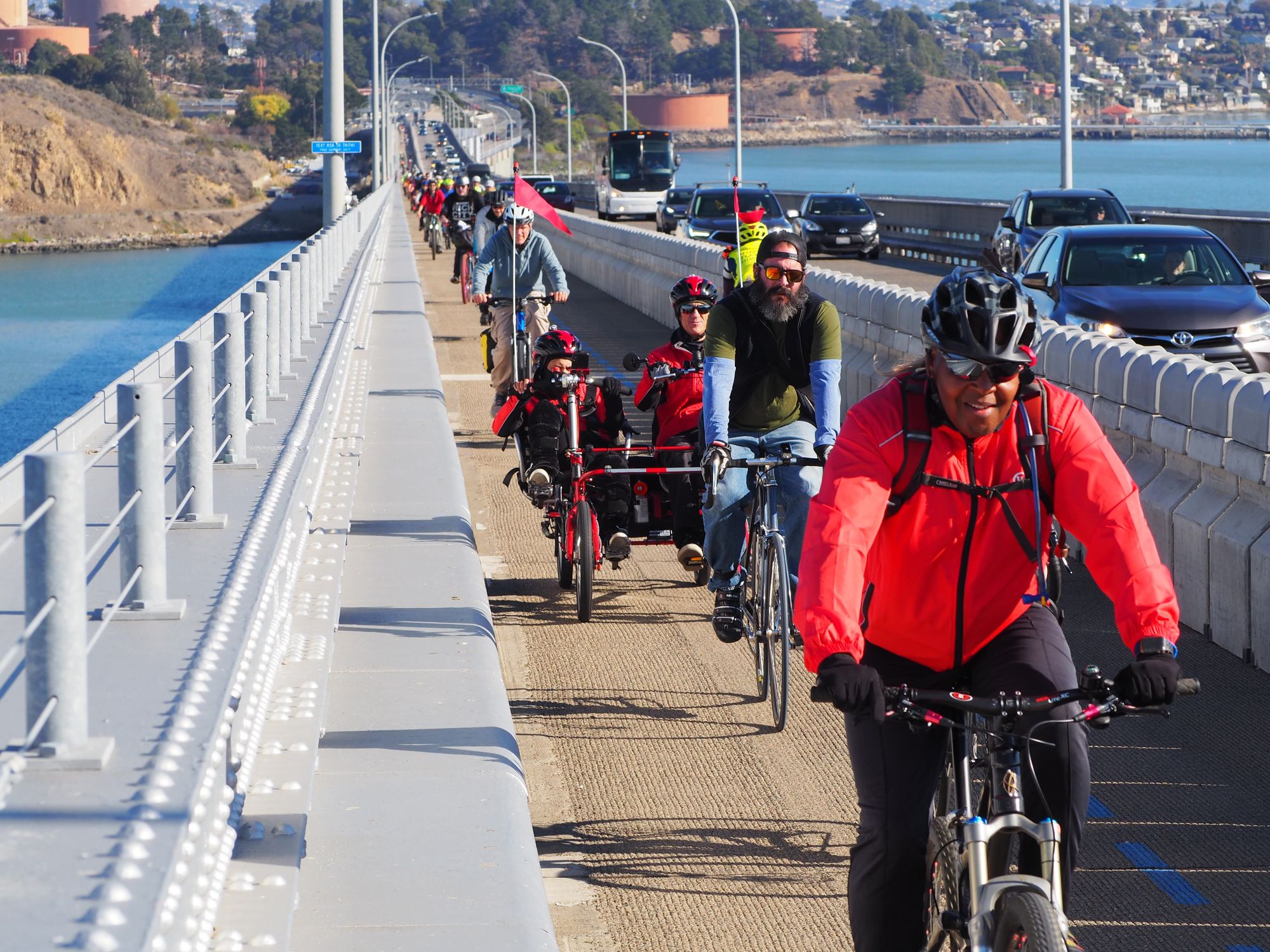 Rufus Jeffris, Senior Vice President of The Bay Area Council, said the public policy group helped secure billions of dollars in local, state, and federal funding to improve Bay Area transportation.
"We got involved in the Richmond-San Rafael Bridge because of persistent morning westbound traffic that contributes to unhealthy air in nearby Richmond neighborhoods. We similarly advocated for improvements to the eastbound approach several years ago," Jeffris said.
Jeffris said that the Bay Area Council is calling for using flexible zipper-type lanes like those on the Golden Gate Bridge on the Richmond-San Rafael Bridge to open the third lane on the upper deck to automobile use during the morning commute.
"Bikes would use the lower deck in the morning. In the afternoon, the bike/ped would be restored on the upper deck. In addition, we're calling for other improvements to the two approaches to the bridge, including removing the existing toll plaza, to help with overall traffic flow. Much of the funding already exists for much of this work, and we're calling on both MTC and Caltrans to prioritize and accelerate this work," Jeffris said.
Rich City Rides has created a petition to Save the Richmond-San Rafael Bridge Bike-Pedestrian Trail and was closing in on 5,000 signatures.
---
Help keep our content free for all!
Click to become a Grandview Supporter here. Grandview is an independent, journalist-run publication exclusively covering Richmond, CA. Copyright © 2023 Grandview Independent, all rights reserved.