News
Fun for all coming soon at Sail a Small Boat Day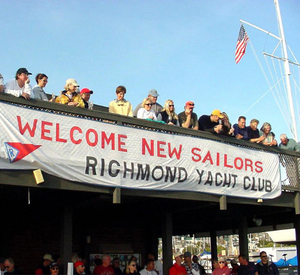 Richmond Yacht Club invites you to come and learn to sail a small boat at their annual family-friendly event, which is open to everyone, with no sailing experience required.
Enjoy a fun day on the water Saturday, March 4th, and try your hand at sailing a variety of different boats.

Kids are welcome, and there's a free hot dog lunch too.

If you are more interested in riding than sailing, RYC says there will also be free boat rides available with one caveat, "if a skipper feels you are not dressed appropriately for his or her boat, or you don't have the necessary skills, they may suggest you try another boat."

But not to worry, there will be plenty of boats to chose from.
When it comes to boats, bigger isn't necessarily better, and learning to sail on a small boat is just as much fun. In fact, small boats have a few benefits. They are inexpensive to store, cheaper to maintain, and much easier to take with you on the go.
If you are interested in purchasing a boat, fleet representatives will be on hand to answer questions, and there will be a variety of boats available to check out.
It is suggested you wear warm, water-repellent clothing, and because there's a good chance you may get wet, bringing a change of clothes is advisable, as is leaving your valuables at home.

https://www.richmondyc.org/
What: Sail a Small Boat Day
Where: Richmond Yacht Club, 351 Brickyard Cove Road
When: Saturday, March 4th