Crime
Richmond crime incidents and offenses
A selection of Richmond crime incidents and offenses.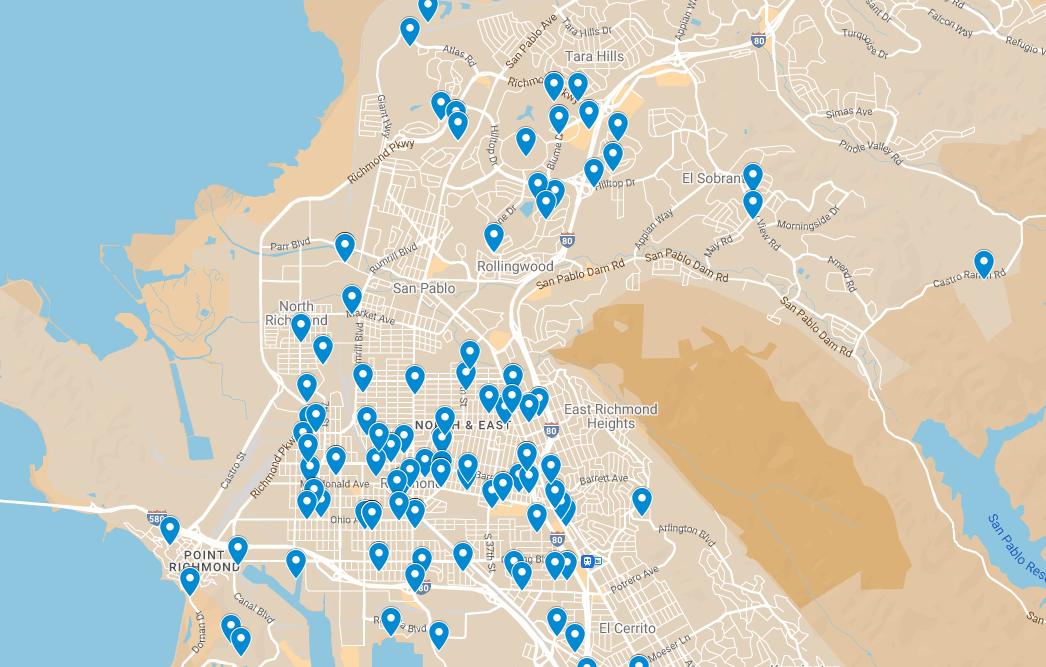 Sunday, January 15
Brandishing: 2100 block of Macdonald Avenue. A man known to threaten people with a machete reportedly refused to leave a business at 12:39 a.m. Officers caught up with the man who didn't have his machete that night.
Traffic hazard: Richmond Parkway. Callers reported a woman dressed in all white in the roadway at 2 a.m.
Convertor robbery: 3000 block of Tulare Avenue. A man reportedly punched a woman after she interrupted him as he tried to remove her catalytic convertor at 6:50 a.m.
Unresponsive: Clinton Avenue. A man reportedly consumed so much alcohol his wife thought he was dead at 3:48 p.m.
Hit-and-run: Esmond and Wilson avenues. A driver reportedly hit a pedestrian and fled the scene without stopping at 3:50 p.m.
Driving while under the influence: Officers booked drivers for suspicion of driving under the influence on McBryde Avenue, West Ohio, and 3rd Street.
Monday, January 16

Vehicle theft: Cars were reportedly taken without the owner's consent in the 2800 block of Barnard Street, the 2800 block of Gonzaga Avenue, the 3900 block of Esmond Avenue, and the 1400 block of Florida Avenue.
DUI: 800 block of Dornan Drive. Police made an arrest for driving while under the influence at 4:45 p.m., responding officers determined the suspect was spinning donuts in the street when he collided with a parked car.
Not moving: 1000 block of 23rd Street. A caller reported a man was sacked out in front of the door of a beauty shop at  4:35 p.m.
Fight: 2000 block of Rheem Avenue. Two women fought at 4:58 p.m.
Trespassing: 2800 block of Salesian Avenue. Someone in a white hooded sweatshirt was spotted on camera hopping a fence and looking in windows at a catholic high school at 11:36 p.m.
Gunfire: 700 block of Alamo Avenue. The city's gunshot detection system picked up six shots in the backyard of a home at 10:54 p.m.
Tuesday, January 17
Resisting arrest: 200 block of 23rd Street. A man reportedly fled from officers after attempting to burglarize a business at 11:23 p.m. Officers caught up to the suspect and took him into custody.
Armed robbery: Espee Avenue. Two men stopped a man, pulled a gun, and took his wallet at 7:20 p.m.
Vehicle burglary: 3700 block of Macdonald Avenue. Two men reportedly broke a car window and stole a woman's purse at 4:20 p.m. The woman reported she had withdrawn money at a local bank and was stopped at a light when the suspects smashed her window and fled in their car.
Wednesday, January 18
Possession of stolen vehicle: Police found someone passed out inside a stolen vehicle at 10:14 a.m. Officers took the fellow to jail.
Hit-and-run: 37th Street and Macdonald Avenue. Police recovered a vehicle taken in a carjacking following a collision at 11:57 a.m. The suspects reportedly fled the scene in another car, also stolen in a carjacking.
Domestic battery: 500 block of 19th Street. A passerby told police a man dragged a woman from a house and slammed her into the ground. Responding officers located a woman suffering from severe facial injuries at 11:48 p.m. Police located and arrested the suspect.
Thursday, January, 19
Possession of stolen vehicle: Carlson Avenue Officers spotted a Chevy Impala reported stolen from El Cerrito near Imperial Avenue at 9:30 a.m. Police stopped the car and took the driver into custody. The El Cerrito Police Department responded and took over the investigation.
Busy catalytic converter thieves: Police received reports for theft of motor vehicle parts on Sierra Ridge Avenue, Pinnacle Court, San Jose Avenue, 37th Street, Carlson Boulevard, and Potrero Avenue.
Domestic violence: 4900 block of Bayview Avenue. Officers investigated the willful infliction of corporal injury at 5:30 p.m.
Friday, January 20
Criminal threats arrest: 100 block of South 6th Street. Police made an arrest at 2 a.m. related to felony threats to commit a crime from July.
Burglary: 2600 block of Roosevelt Avenue. Police took a report for a residential burglary at 5:42 p.m.
Unsheltered and looking for something: Hilltop Offramp. Reports of a man down near the freeway turned out to be a woman looking for something in the dirt at 1:30 a.m.
Brandishing: 500 block of 18th Street. Someone exhibited a deadly weapon at 4:34 a.m.
Carjacking: 3400 Richmond Parkway. Two masked men pointed an object at a man and stole his cargo van at 6:25 a.m.
Map of crime incidents and offenses