Crime
Richmond crime incidents and offenses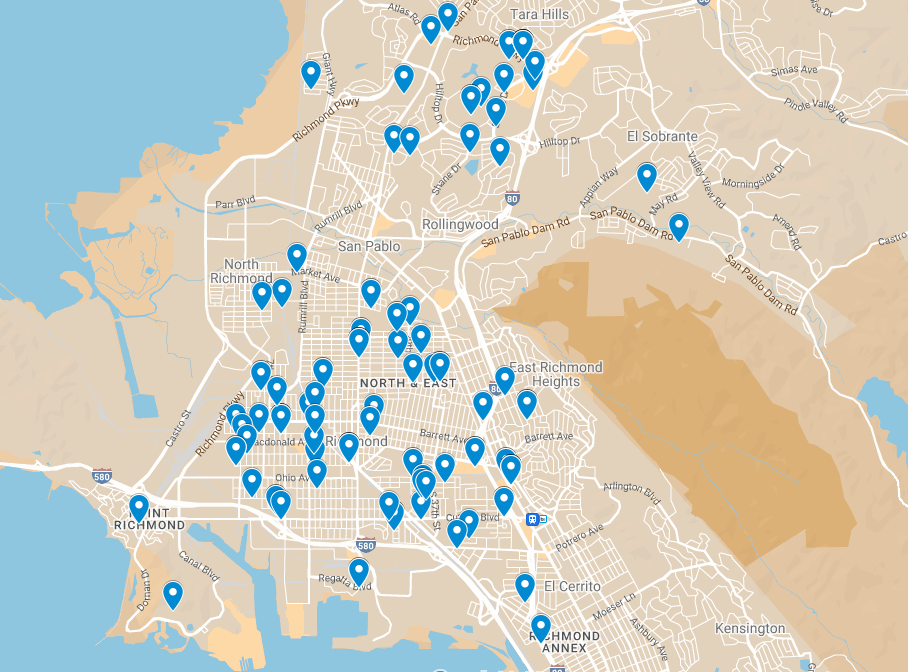 Wednesday, March 1
Shot in the arm: 100 block of 22nd Street. The city's gunshot detection system picked up nine rounds near the railroad tracks at 8:20 p.m. Later, police and fire responded to a man shot in his arm near the Greater Richmond Interfaith Program.
Shotspotter activation: 200 block of 15th Street. The city's gunshot detection system picked up gunshots fired in the backyard of a home at 7:24 p.m.
Sexual assault: Officers investigated a sex crime involving a victim under 16 years old.
Tuesday, February 28
Apartment disruptor: 3400 block of Richmond Parkway at 9:04 p.m. A caller told police her sister was tearing up their apartment at 9:04 p.m.
Unwanted person: 2600 block of Grant Avenue. A caller told police his son was banging on his door and trying to get in at 8 a.m.
Bottle service: 2800 block of McBryde Avenue. A caller told police his ex-girlfriend was vandalizing his vehicle with a bottle for the second time today at 6:11 p.m.
Monday, February 27
Attempted murder: 2400 block of Aberdeen Way. Police investigate a shooting possibly involving two shooters at 8:46 p.m.
Vehicle theft: 1000 block of 23rd Street. Police investigated the embezzlement of a leased or rented vehicle at 4:18 p.m.
Stalking: 1700 block of Burbeck Avenue. Someone violated a court order to prevent domestic violence at 7:11 p.m.
Robbery arrest: Police made an arrest in connection to a January armed robbery on San Pablo Avenue.
Sunday, February 26
Disturbance: 2400 block of Humphrey Avenue. Police respond to someone causing trouble at 11:15 p.m.
Domestic violence: 3100 block of Garrity Way. Police arrested someone for aggravated assault at 12:44 p.m.
Child endangerment: 4100 block of Klose Way. Officers responded to a report of a child abandoned at a fitness facility at 11:06 a.m.
Vandalism arrest: 200 block of 3rd Street. Police made an arrest in connection to a felony vandalism charge at 7:12 p.m.
Strong-arm robbery: 2700 block of Sheldon Road. A resident reported two dudes he knows from San Pablo dragged him from his car at 5:06 p.m. The fellows reportedly knocked him to the ground, hit him with a stick, and stole his phone.
Saturday, February 25

Assault with a firearm: 5000 block of Cutting Boulevard. A man reportedly hit a woman on her head with a gun and stole her purse at 8:51 p.m. When another person tried to intervene, he too was smacked in the head with the firearm. The man reportedly fled into the night and was not found.
Stolen car: 800 block of 30th Street. A vehicle was lost to someone who made it his business to take the property of others at 2:45 p.m.
Aggravated arson: 300 block of South Street. Firefighters extinguished a fully engulfed Lincoln Town Car at 12:36 p.m.
Residential burglary: 2800 block of Maricopa Avenue. Police received a report of a suspicious man on a resident's porch at 6:30 a.m. The man also reportedly broke a window and tried to get inside.
Domestic violence: 3400 block of Garvin Avenue. A woman reported her boyfriend assaulted her the previous night and was trying to get inside a home at 10:10 a.m. The man reportedly had a no-bail warrant for burglary and was also on California Department of Corrections parole. He earned a few more charges, including false imprisonment and battery.
Friday, February 24
Weapons violations: 37th Street and Garvin Avenue. An officer stopped a Maxima for expired registration and made an arrest after finding a loaded handgun at 11:39 p.m. Officers recovered a firearm described as a Glock-style ghost gun.
Kids with ghost guns: 200 block of 15th Street. An officer spotted two ski-masked fellows at 10:22 p.m. One was carrying a duffle bag with what looked like a firearm inside, while the other appeared to have a gun in his waistband. When the officer tried to contact the duo, they fled. One youngster was caught with another one of those Glock-style ghost guns and taken to juvie, while the other got away.
Shotspotter activation: 700 block of South 45th Street. The city's gunshot detection system picked up two rounds fired in the street at 9:51 p.m. An officer located the casings, but nothing was struck.
Deceased: 1300 block of Marina Way South. The body of a man reported missing earlier in the day was found floating in the water at 2:05 p.m.
Theft from a building: 4500 block of Mcdonald Avenue. Police made an arrest for petty theft at 4:58 p.m.
Domestic violence: 600 block of Yuba Street. Police investigated reports of domestic violence, exhibiting deadly weapons, and child abuse at 1:29 p.m.
Simple assault: 3600 block of Sierra Ridge. Police made an arrest for simple assault at 5:11 a.m.
Recovered stolen vehicle: Fred Jackson Way. Police stopped someone driving a stolen car  8:25 a.m.
Robbery: 900 block of Cutting Boulevard. Three dudes with large bags confiscated cigarettes and cash from a convenience store at 8:12 p.m. Officers checked the area but did not locate the trio.
Map of crime incidents and offenses