Crime
Richmond crime incidents and offenses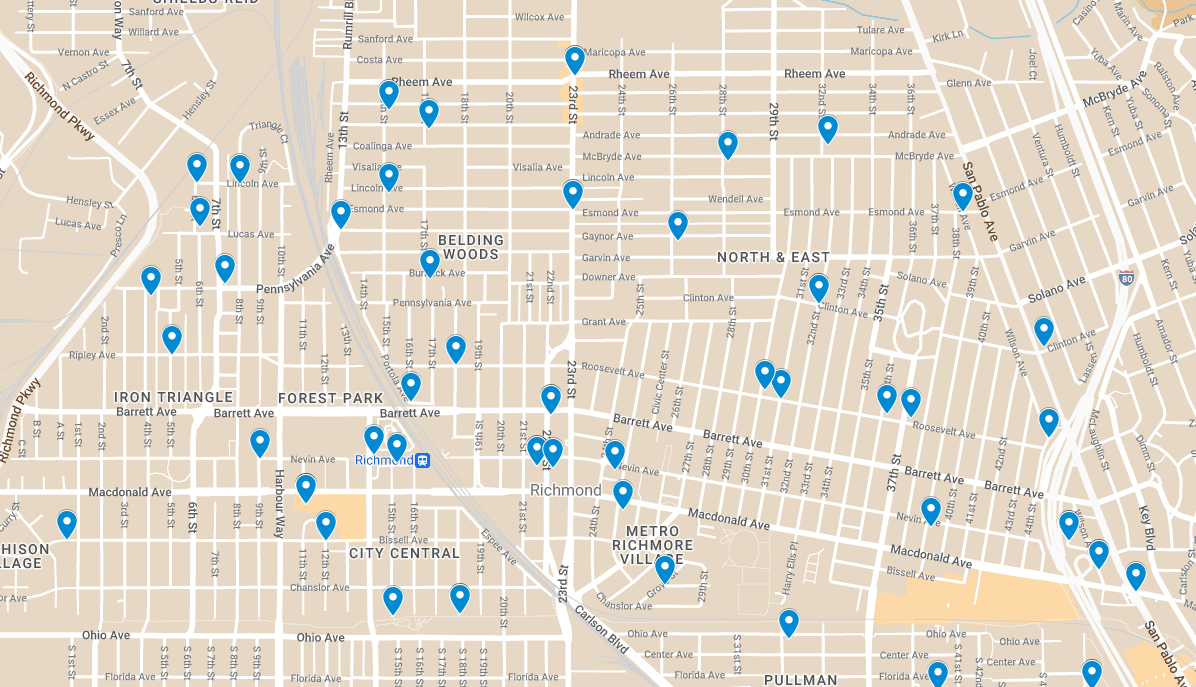 Saturday, February 11
Attempted robbery: 900 block of 23rd Street–one of the locations Richmond police have identified as a strong-arm robbery "hot spot." A man in a restaurant's parking lot required medical attention after he was hit in the head with a gun at 9:40 p.m.

Trespassing: 1000 block of Market Avenue. Police arrested someone for trespassing and receiving a stolen vehicle at 12:11 p.m.
Robbery with a dangerous weapon: Bissell Avenue. Two women were sent to the hospital after a robber hit them both in the head with an unknown object, stole their purses and shopping bags, and fled on foot at 6:38 p.m.
Assault: 2800 block of Esmond Avenue. A passerby reported a man shoved a woman and took her phone during an altercation at 1:46 p.m. Police located the woman on Garvin Avenue, where she declined assistance and walked away.
Friday, February 10
Indecent exposure: 500 block of South 16th Street. A man reportedly dropped his pajama bottoms and requested sexual favors from two women attempting to park at 5:06 p.m.
Assault with a deadly weapon: 1000 block of South 47th Street. A woman reported her ex-boyfriend hit her with his car at 2:09 p.m. Police checked the area but did not find the guy.
Too drunk to test: Cutting and Canal boulevards. Officers reportedly located a chemically inconvenienced driver slumped over his steering wheel at 4:45 p.m. Police said the driver could not complete a roadside sobriety test and was taken into custody without incident.
Distracted gunman: 300 block of Fourth Street. Someone tried to hold up a UPS driver at 7:20 p.m. The Man in Brown reported someone with a gun demanded all of his packages but soon became distracted, which allowed the UPS driver to take off. Officers looked for the attempted armed robbery suspect but could not locate him.
Hit-and-run: 1600 block of Atlas Road. A caller reported a man in a Kia hit her car and another car on the parkway before ending up at the UPS building at 5:09 p.m.
Hit-and-run and weapons violations: 2800 block of Cutting Boulevard. A driver was arrested after reportedly losing control of his car and hitting a parked car at 11:10 a.m. The driver fled the area leaving a loaded firearm in his crashed car. Police were able to locate the driver and the gun.
Restraining order violation: 100 block of South 33rd Street. Someone violated a court order to prevent domestic violence at midnight.
Thursday, February 9
Battery: 900 block of Triangle Court. Police arrested someone for domestic violence at 4:30 p.m.
There was an attempt: 800 block of Carlson Boulevard. A young masked woman reportedly pointed a gun at a store clerk and asked for money at 12:49 p.m. The would-be robber reportedly became scared and left without money.
Aggravated assault: Garvin Avenue and San Pablo Avenue. A woman reported her ex-boyfriend choked her at 11:37 a.m. Later that day, police nabbed him when he returned to the home they shared.
Battery: 100 block of Marina Lakes Drive. Police responded to a report of spousal battery at 1:51 a.m.
Wednesday, February 8
Disturbance: 3900 block of Esmond Avenue. A woman reported her brother threatened her and her son at 6:29 p.m.
Sex crime: Euclid Avenue. Police investigated a sex crime.
Battery on a person: 600 block of South 24th Street. Police responded to a report of a battery at 2:10 p.m.
Criminal threats: 1200 block of Bissell Avenue. Officers were requested to deal with a loud fight at 7:46 a.m.
Commercial burglary: 4000 block of Lakeside Drive. Police received a report of a commercial burglary at 1:20 p.m.
Tuesday, February 7
Shoplifting: 1100 block of Mcdonald Avenue. At 1:36 p.m. Three people tried to make off with goodies from Walgreens at 1:36 p.m. Police nabbed the trio after they fled towards the Social Security building.
Commercial burglary: 12500 block of San Pablo Avenue. Police took a report of a commercial burglary at 1:20 p.m.
Monday, February 6
Assault with a deadly weapon: 2300 block of Rheem Avenue. A caller reported a 22-year-old man just stabbed him at 10:04 a.m.
Reflecting: 4800 block of Hartnett Avenue. A woman reported seeing the reflection of a man with a gun on her coffee table at 9:35 p.m. Police were unable to locate the reflection.
Aggravated assault: 4200 block of Hilltop Drive. Police arrested one person for aggravated assault at 8:35 p.m.
Felony hit-and-run: Macdonald Avenue and 23rd Street. Officers arrested a man who fled from police at 6:53 p.m. The man reportedly drove the wrong way on 22nd Street, hit two vehicles, causing an injury, and may have been under the influence of certain substances.
Assault with a deadly weapon: Folsom Avenue & Rumrill Boulevard. A man with a gunshot wound to his foot told police he'd been shot at 10th Street and Pennsylvania Avenue at 2:23 a.m. Oddly, a check of the city's gunshot detection system didn't have any activations in the area.
Burglary: 600 block of Wilson. A residential burglary was reported at 1:52 p.m.
Map of crime incidents and offenses