Science
Assemble Marketplace welcomes Dr. Yvonne Cagle for a meet-and-greet event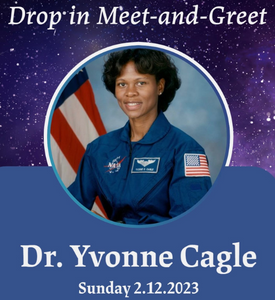 Assemble Marketplace invites you to a drop-in "Meet-and-greet" with former astronaut Dr. Yvonne Cagle Sunday, February 12th.

Cagle wears many, many hats.
An American physician, professor, retired U.S. Air Force Colonel, and former NASA Astronaut, Cagle joined NASA in 1996, and is an advisor for NASA's Flight Opportunities Program, a program that "matures capabilities needed for NASA missions and commercial applications while strategically investing in the growth of the U.S. commercial spaceflight industry," according to the NASA website.
Cagle is a graduate of  Novato High School and San Francisco State University with a bachelor's degree in biochemistry. She also holds a doctor of medicine degree from the University of Washington, completed a transitional internship at Highland General Hospital in Oakland. She also received a certificate in Aerospace Medicine from the School of Aerospace Medicine at Brooks Air Force Base, Texas, in 1988.
Dr. Cagle also serves as the NASA liaison for exploration and space development with Singularity University in Santa Clara, California.

Previously Cagle served as the VP for space exploration and space exponential technologies at Singularity University and was a visiting professor at Fordham University, as well as an adjunct professor at Stanford University, UC Davis, and UTMB, Galveston.


When: Sunday, February 12th, 12 p.m. to 1:30 p.m.
Where: Assemble Restaurant
1414 Harbour Way S Suite 400a, Richmond, CA 94804