Entertainment
Twelve things to check out this weekend: music, art, kayaking, and more!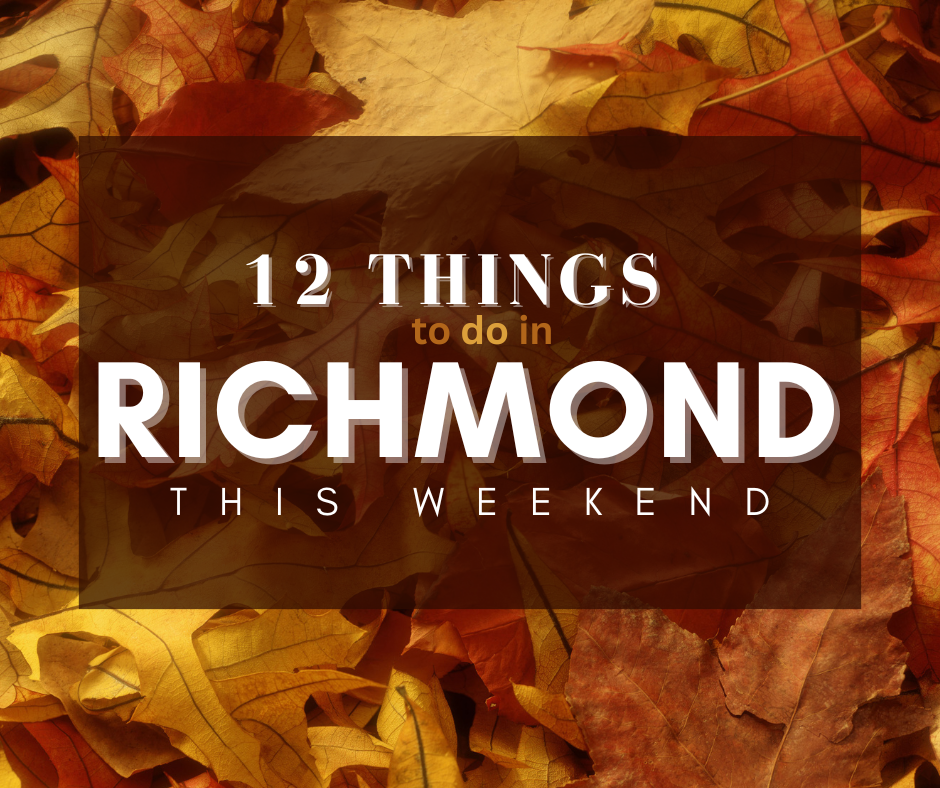 ■ Up and Under Pub Live stream Rugby
RUGBY WORLD CUP 2023 | NEW ZEALAND VS. ITALY
Friday, September 29, 12:00 PM  2:00 PM
2 W Richmond Ave., Point Richmond,
■ Traffic Calming Forum with Councilmember Claudia Jimenez

This Saturday from 10-12 I'll be at the Solano playlot to talk more about the traffic calming program and answer your questions. Join me! RSVP here:https://www.claudiajimenezforrichmond.com/traffic_calming_forum
El mes pasado les hablé del nuevo programa de la ciudad para agregar más medidas de seguridad a nuestras calles. Este sábado de 10 a 12 estaré en el playlot de Solano para hablar más sobre el programa y responder tus preguntas. ¡Únete a mi! Confirma tu asistencia aquí: https://www.claudiajimenezforrichmond.com/traffic_calming...

■ Free Benefit Concert in Civic Center
¡Ya Basta! y Sin Miedo / Enough is Enough! Benefit Concert. Join The Latina Center and several local partners for a benefit concert dedicated to raising public awareness about and bringing an end to domestic violence against women and girls, as well as all forms of gender-based violence. The ¡Ya Basta! y Sin Miedo / Enough is Enough! Benefit Concert will be held outdoors at Richmond Civic Center Plaza on Saturday, September 30th, from 2:00 PM to 5:00 PM. It is free and open to the public. For more information, contact Katherine Rife from The Latina Center at krife@thelatinacenter.org or by phone at (202) 340-8989.
■ Annies Annuals: Beyond Pollinator Gardens – How to Support Regional Biodiversity! A Free talk with Sarah Sutton, author of Kiss Your Grass Goodbye

Invite nature into your garden and help support vital biodiversity in our communities!  Nature needs our help! And the good news is, by planting in our gardens many of the key native plants that our local birds, native bees, beneficial insects, and more have co-evolved with, we can support our diverse local and regional food web and increase wildlife resilience. Sarah Sutton, ASLA, APLD, and RQP will introduce key urban biodiversity challenges and how to select and include beautiful native plants in your gardens and landscapes for maximum wildlife benefits. Truly, plant them, and they will come!
Saturday, September 30th, 11 am -12 pm

■ Historic Art Celebration: "Richmond Industrial City"
The Richmond Museum of History & Culture is inviting you to attend the formal unveiling of the fully-restored "Richmond Industrial City," a mural painted by Victor Arnautoff in 1941. This event is taking place on Saturday, September 30, 2023, from 12 p.m. to 2 p.m. at the Richmond Museum of History & Culture at 400 Nevin Avenue in Richmond. All funds earned during this event will be earmarked for future mural upkeep and bringing other spectacular exhibits to view.
■ ARTSCCC (Arts Contra Costa County) invites you to the "Cultural Corridor Project" exhibition
Saturday, September 30th, from 2-5 pm at Only At Bridge (23 Maine Ave., Richmond) with partner introductions at 3:30 pm! Funded through an East Bay Community Foundation grant, the project connects the Latinx communities of Richmond and Concord through a public artwork, community celebration, and exhibition. Richmond artists include Silvia Ledezma, Richard Muro Salazar, Tony Tamayo, David Meza, and Denis Perez Bravo!
■ Live Music at Rigger's Loft Wine Co.
VOCAL FORWARD, POP/ INDIE ROCK
We are Big City Trees.  We play a combination of covers and originals, mostly what I would describe as vocal forward, pop/ indie rock.  We are a three-piece, guitar, bass, and drums,  and we all sing.  The artists we cover include Elton John, David Bowie, Amy Mann, Elliot Smith, the Beatles, Elvis Costello, and more.
Sunday, October 1, 2023, 2:00 PM  5:00 PM
■ Urban Tilth 1st Sunday's at The Richmond High School Community Garden
Join us every first Sunday for a day of hands-on gardening, workshops, and community building. Discover the joy of sustainable gardening, learn valuable skills, and connect with like-minded individuals passionate about cultivating a greener future. Let's come together, grow together, and make a positive impact on our community. See you at the garden! October 1 @ 10:00 am – 1:00 pm PDT

■ Brazilian Happiness - Mais Bossa At the Sailing Goat
Mais Bossa plays the classics and deep cuts of the bossa nova era, along with Brazilian-inspired takes on American favorites. A native of Goiânia, Brazil, the vocalist Marcia Jacomo fronts the band with her angelic and playful voice. The rhythmic heartbeat is supplied by the Brazilian master percussionist  Alex Calatayud.. Patrick Langham of legendary local bands Boca do Rio and Big Sticky Mess plays on the Bass Guitar, and Billy Larkin brings decades of jazz piano experience with his delightfully unique arrangements. Oct 01, 4:00 PM – 7:00 PM Sailing Goat at Point San Pablo Harbor, 1900 Stenmark Dr, Richmond, CA 94801, USA
■ BROOKS ISLAND KAYAK ADVENTURE
This trip is a short paddle in stable, double kayaks across sheltered bay water with spectacular views of San Francisco. Paddle along Brooks Island's preserve shoreline, then come ashore to enjoy a naturalist-guided two-mile hike around the island, which is normally closed to visitors. Registration is required. October 1 @ 9:30 am - 3:30 pm
■ Harvest Festival at The Backyard!
Introducing the first annual Harvest Festival at The Backyard! Sunday, October 1st, from 12 pm-8 pm. Celebrate the bounty of your local brewers and enjoy the best Oktoberfest/Fall Season beer and cider releases from your favorite local brewers, all under one "roof"! + LIVE MUSIC by @phosphorusmusic, games, and your favorite Backyard eats in support of Safe Organized Spaces (SOS) — Richmond's Solutions for Homelessness @sos.richmond  
■ RICH CITY RIDES Community Care Ride
Join us at this Sunday's RICH CITY Rides Community-Care Ride - Teacher Appreciation Day (10 AM at the Unity Park Bike Hub (1605 Ohio Ave., Richmond)). This ride is to honor the hard-working men and women who have devoted their lives to teaching our children and for being the wonderful civic role models they are. This will also include some bike therapy and wellness.  We'll take off at 11 AM and be back by 1:00 PM, just in time for our free bike repair workshop.  We cannot thank our educators enough!!!!  For free registration and more information, go to our Eventbrite & FB page.bit.ly/3EPQoSv
---
Help keep our content free for all!
Click to become a Grandview Supporter here. Grandview is an independent, journalist-run publication exclusively covering Richmond, CA. Copyright © 2023 Grandview Independent, all rights reserved.