"You on the Moors Now" opens March 17th at the Masquers Playhouse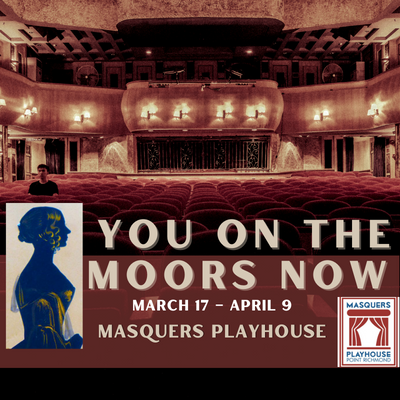 Director Angelina LaBarre wants you to keep an open mind. Cheerfully she warns, "there are going to be some surprises and some absurdity, but it's going to be a very good time."
LaBarre is referring to her delightfully humorous production of "You on the Moors Now," which opens March 17 at the Masquers Playhouse.
Here's the setup: Capitalizing on the theme "everything is not what it seems," four beloved literary heroines of the nineteenth century set conventionalism ablaze when they turn down marriage proposals from their gentlemen callers. What results is a confluence of love, anger, grief, and bloodshed as the ensemble struggles to reconcile romantic ideologies of the past with modern ideas of courtship.
According to LaBarre, "these are all the characters we love, but with modern sensibilities. Elizabeth Bennett says the things to Darcy we all wished she would say, Jane [Eyre] wants to be an astronaut, and Jo (Little Woman) just wants to focus on her writing. A war breaks out when they say "no" to their men."
The play, written by Jaclyn Backhaus, is everything you've learned about love from the pages of Pride and Prejudice, Wuthering Heights, Jane Eyre, and Little Women turned upside down in this grand theatrical battle royale.
LaBarre said she was instantly excited about the play while reading the script." When I first read this play, I immediately saw where it was going, and I am so glad Masquers were interested in it. We all have ideas about who these characters are, but you will want to have an open mind; there will be surprises," LaBarre said.
While the play aims to inspire a Victorian-era feel, the costumes come with some twists. "Think Empire waistlines, but with modern takes," LaBarre said, adding, "we aren't going for historically accurate but we definitely do give the feel of the period."
Single tickets are $30, and seniors and students save 10%.
Performances on Fridays and Saturdays at 8 pm and Sundays at 2 pm.
Purchase tickets online or by calling 510-232-4031

For more information, visit https://www.masquers.org