Richmond welcomes new mayor and councilmembers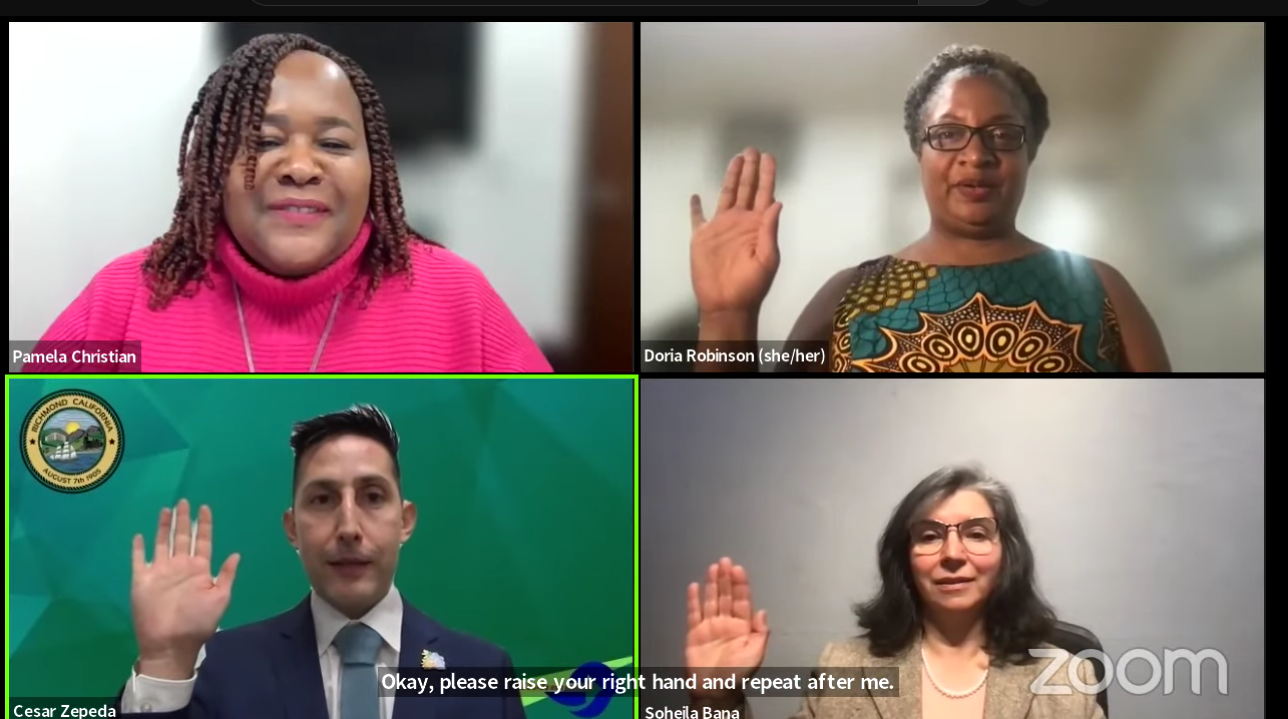 The City of Richmond welcomed three new councilmembers and a new mayor at a swearing-in ceremony this evening.

New Mayor Eduardo Martinez, and freshly elected city councilmembers Soheila Bana (District 4), Doria Robinson (District 3), and Cesar Zepeda (District 2) were sworn into office at a meeting held on Zoom and shown on KCRT TV, was followed by a reception at the Bridge Storage Art and Events facility.
New Mayor Eduardo Martinez addressed the three new councilmembers and gave each of them time to speak and introduce themselves.

New District 2 Councilmember Cesar Zepeda said, "It's an honor to represent District 2, a very diverse district just like the rest of the city. I am looking forward to partnering with everyone regardless if they voted in District 2 or not. I am a community person; I grew up in Richmond and will support every single person."
Bana said, "I am very excited to be here and represent my area, District 4." And Robinson said she is ready to get to work. "I feel really proud to serve the district I was born and raised in."

Much of the meeting revolved around outgoing Councilmember Nat Bates, who has spent several decades serving Richmond in various capacities, including as mayor.

Councilmember Claudia Jimenez offered her thanks to Nat Bates, "I think you for your years of service and wish you a happy retirement." Jimenez also wished the best to outgoing councilmember Demnlus Johnson and thanked him for representing the community.
Councilmember Gale Mclaughlin said to Bates, "it's been 14 years since we began to serve together, and while we haven't always agreed on everything, it was always clear to me that you had a strong commitment to the community, so I appreciate the years we served together and wish you the very best."
Addressing Councilmember Johnson, Mclaughlin said, "it's been a pleasure to work with you. We agreed on a lot, and even when we didn't, you were respectful; you brought so much to the council."
Melvin Willis said to Bates, "for me, I'm sad we've had to do it on zoom, but it's been an experience and joy to work with you. Thank you for working with me and showing me respect. To Johnson, Willis said, "we never really talked about this, but out of everyone I worked with on the council, you are the person I related to most, and I respect your perspective."
Martinez reflected on his experience with outgoing councilmember Bates, "I wanted to share some stories, a lot of people haven't seen the lighter side of Nat Bates, and what a funny person he can be when he shows his true self. I've had a lot of trips with him, and we have been able to see each other as humans and see past all the political nonsense."
City of Richmond Staff Liason, Trina Jackson-Lincoln, presented a proclamation to each of the outgoing councilmembers, recognizing Bates for his lengthy career in Richmond.

Bates asked City Clerk Pamala Christian to read a statement he'd written offering a historical perspective on his career and thanking the many people he worked with over his many years with the city.

Pastor Ulis, Redic of Mount Zion Baptist Church, provided the invocation. Following the swearing-in ceremony, a reception followed with entertainment provided by East Bay Performing Arts Center students.