News
City responds to slide threat above Seacliff development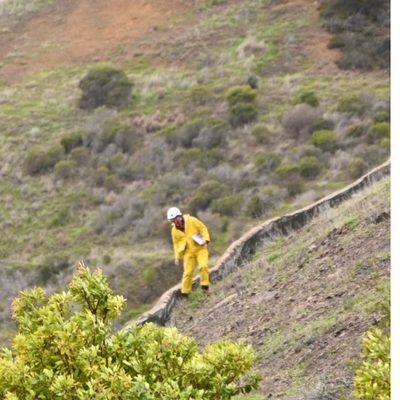 Residents have been evacuated in Richmond's seacliff neighborhood after Mayor Tom Butt was alerted to a potential slide developing on the hillside directly above several homes.

According to a post on the Mayor's E-Forum website, "City Manager Curl called in Cal Engineering & Geology Inc., who recommended the evacuation of 15 homes below the incipient slide, and the Richmond Emergency Operations Center was activated to support the incident. Arrangements were made to house residents who had no other options in an Emeryville hotel."

The slide area is right along the property line between the Seacliff Homeowners Association and East Bay Regional Parks District.
Local contractor W.R. Forde was on-site assessing the situation today, along with a geologist who is doing additional evaluations.
The fissure comes ahead of another wave of rain and wind due to hit this afternoon, following a group of storms that drenched the area in the last week.
Potential slide mitigations for the hillside could include utilizing a plastic cover over the site to prevent the rain from adding to the current situation.

Due to potential hazards, the following streets are currently closed:
Seacliff Drive between Seacliff Way and Canal Blvd, Seaview Drive from Seacliff Drive to Admiralty Way, Seacliff Way from Seacliff Drive to Admiralty Way.