News
Richmond celebrates Earth Day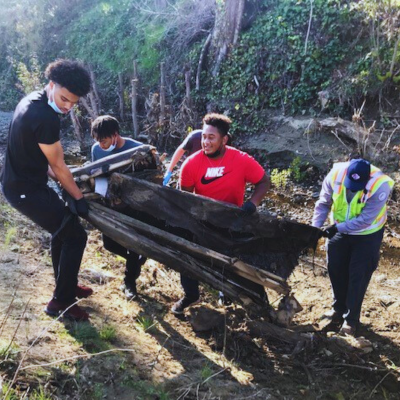 This year marks the 53rd anniversary of Earth Day, a day set aside each year to raise awareness about the environment and sustainability. For students, Earth Day is also an opportunity to learn how to create change.
Dr. Elizabeth Coscia teaches environmental and biological science at Salesian High School, where students partner with nonprofit organizations to help protect the area's natural resources and learn about the environment around them.
"We have worked with The Watershed Project the past two years on Service Day on the North Richmond Beautification Project ("Hope Gardens"). We are so grateful for the non-profit organizations based in Richmond," Coscia said. "For today's Earth Day activity, we had an Earth Day trivia competition that included a question preceded by an educational component.  What we shared with the students today is that they should never underestimate their own power to make a change."
At Salesian, campus celebrations often have student-led activities that tie into classroom learning or special projects.

"Today, we celebrated Earth Day on our campus with a Dollar Dress donation collection and an outdoor student-led activity. The donation will support TWP, a Richmond-based organization whose mission is to inspire Bay Area communities to understand, appreciate, and protect our local watersheds, including the Wildcat Creek Watershed section of Wildcat Creek that borders Salesian's campus has been restored, and thanks to our partnership with TWP and the City of San Pablo, the Creek Restoration Project has become an integral component of the Environmental Science Curriculum," Coscia said.  
Coscia says Salesian students are not only stewards for the creek participating in cleanups, but they are also monitoring water quality.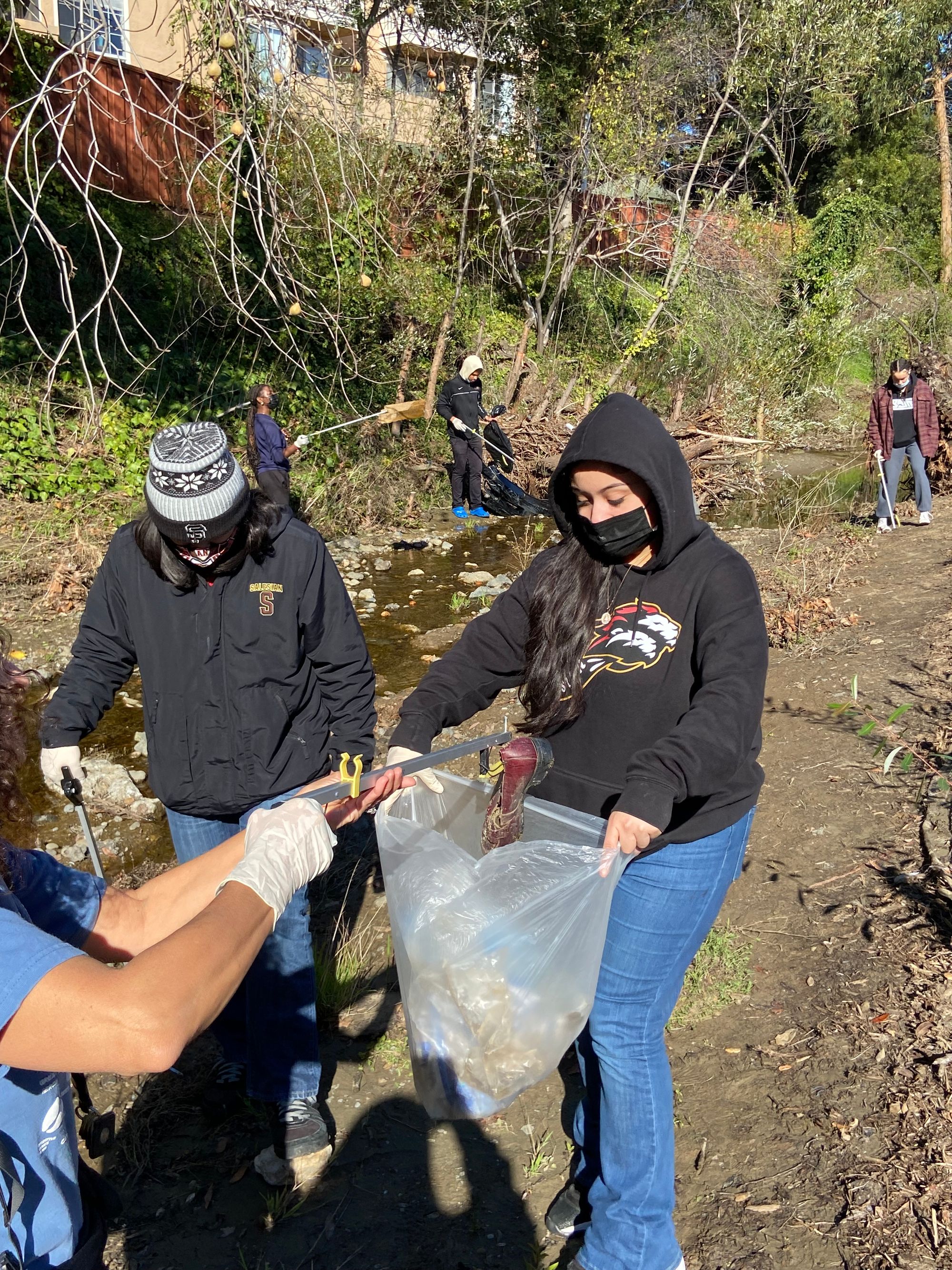 Coscia teaches her students that Earth Day is a reminder to all to commit to an action to lead a more sustainable life and protect our planet's natural resources, and fight climate change.
Coscia says she is grateful for the amazing work her coworkers do to model sustainability and inspire students to make a change.  
"What was super encouraging was that after today's event, a number of students approached me asking to participate in a Richmond cleanup event this weekend.
In participating in a local cleanup event, they are connecting with Richmond youth climate activists from Sustainable Leaders in Action, who are in turn working with Sustainable Contra Costa and their Cleaner Contra Costa Challenge program and will hopefully learn even more about sustainability and environmental issues related to climate change and inspire them to be a climate youth activist and make a change," Cosica said.
Richmond Non-Profit Urban Tilth partners with local schools to help students learn about urban agriculture and hosts an Earth Day event each year.

Arleide Santos, Community Organizer with Urban Tilth, said she can talk for hours about those "special events" like Earth Day.

"Earth Day is an annual event that has been celebrated over and over again and each year better. It is a day when our community comes together to raise awareness about environmental issues and take action to protect our planet.
The perfect opportunity to highlight the importance of sustainable living and to promote ways to reduce our carbon footprint," Santos said.
Santos says she sees events like Earth Day "as a puzzle, with so many steps to make sure all pieces are connected. So we can deliver the best event ever to the Richmond community."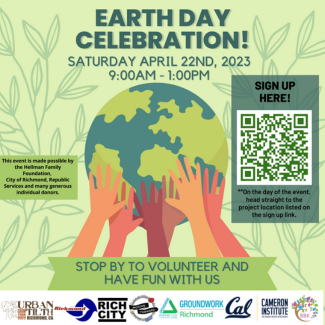 Solwazi Allah, Watershed Restoration Field Crew Manager at Urban Tilth, thinks Earth Day has a special significance in Richmond.
"I think it's an especially important event in Richmond because it's an urban city where green space is limited, which makes it even more important and valuable, for mental and physical health, for child development, and for species habitat. The complete disregard for the health of the environment and community by Chevron has pushed the message that our earth doesn't matter, but that couldn't be further from the truth. We want people to be aware of the magical green spaces in their own neighborhoods, realize that there are already people who care about the environment doing work to protect and preserve the nature we have, and that they can join us in the fight," Allah said.

---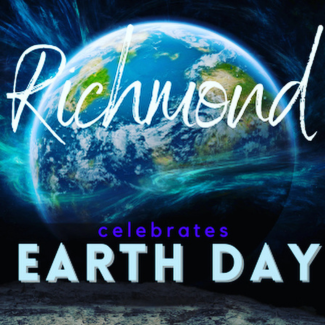 Richmond Earth Day Events

East Bay Regional Park District 2023 Earth Day Volunteer Opportunities
In-Person Earth Day Volunteer Projects: April 22
Join us at multiple locations throughout the East Bay Parks to help complete meaningful projects Park District-wide. Register below:
Shoreline Cleanups (registration and walkups):
| | |
| --- | --- |
| Phone: | (510) 544-2229 |
| Website: | |

Story Stroll Celebrates One Year Anniversary with an Earth Day-Themed Story
Stroll Join Children's Librarians for an Earth Day-themed Story Stroll at Miller/Knox Regional Shoreline on April 20th from 11:00 AM to 12:30 PM. We will meet Naturalist, Melissa Fowlks, at the Big Meadow Picnic Area parking lot for a walk followed by Earth Day activities and storytime. This free program is great for all age groups! Please call the Children's Room at (510) 620-6557 for more information.

Richmond's on-demand public transit service
celebrates Earth Month with free rides!
Richmond Moves, will provide free rides on Friday, April 21, in recognition of Earth Month. The promotion will be automatically applied upon booking a ride. https://city.ridewithvia.com/richmond-moves

Urban Tilth Earth Day Celebration on The Greenway Trail!
Urban Tilth, City of Richmond, Rich City Rides, Moving Forward, GroundWork, Cal Cameron Institute, and Building Blocks for Kids are inviting the Richmond Community to celebrate the honors and achievements of the environmental movement and raise awareness of the need to protect Earth's natural resources. This year's Earth Day Celebration will be Saturday, April 22nd, from 9:00 AM to 1:00 PM. Volunteer projects will be happening in three different locations 1. 250 S. 13th Street (Nystrom Village Parking lot) 2. 15th St. at the Richmond Greenway Trail 3. Unity Park 1605 Ohio Ave Learn new ways to have a sustainable life and take better care of planet Earth, through fun activities such as outdoor painting experience, gardening activities, mural painting, park/garden beautification, games, speakers, FREE blood pressure screening, bike-powered smoothies, petting zoo, and other fun activities and booths. To sign up, please visit https://www.signupgenius.com/go/10c094da8ac28aaf4c61- earth#/, and for more information, contact Greenway@urbantilth.org.
Sixth Annual North Richmond Green Festival and Earth Day Celebration
This year's Sixth Annual North Richmond Green Festival and Earth Day Celebration will be held on Saturday, April 23rd, at the North Richmond Ball field/Park on Fred Jackson Way and Pittsburg Avenue in Richmond. There will be an opportunity to volunteer from 9:00 AM to 11:00 AM and the Festival will be held from 10:00 AM to 2:00 PM.  

The outdoor festival brings residents together to celebrate the efforts being made to improve the environment and the health of the community. The festival and celebration will include live music, food, pony rides, arts and crafts, vendors, and children's activities. Bring family and friends to celebrate and volunteer at the 6th Annual North Richmond Green Festival and Earth Day Celebration.

Register to be a volunteer by visiting the North Richmond Green Fest Sign Up webpage: North Richmond Green Fest Sign Up.
Richmond Global Youth Service Day & Earth Day
Volunteer at the Global Youth Service Day & Earth Day
Saturday, April 23, 2016
9:00 am – 1:30 pm Register Now at tinyurl.com/RichmondGYSD-EarthDay.


Earth Day, April 23, Groundwork Richmond and the City of Richmond invite you to improve and promote the use of Richmond Greenway Trail
Volunteers will be working on Richmond's Eastern Greenway trail from Carlson Blvd to San Pablo Ave, doing everything from public art installations to street cleanups to tree planting.
Please register now at tinyurl.com/RichmondGYSD-EarthDay.
Volunteers report to 42nd St & Ohio Ave (Richmond Greenway Trail)
For more information, please contact Jantsan Damdinsuren at jantsand@ci.richmond.ca.us and/or (510) 620-6563.