News
Neighbors walk to address human trafficking issues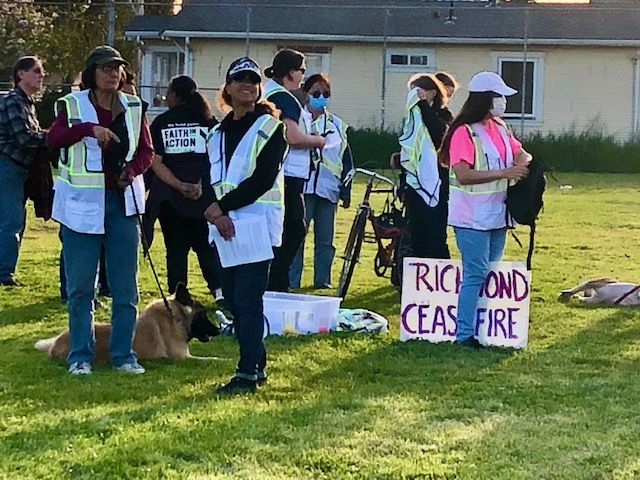 North and East neighbors joined with community group Faith in Action for a peace walk Friday night to address growing frustration with human trafficking in their neighborhood.
The group met at Wendell Park before heading out for a walk through the neighborhood with signs in hand, chanting, "Who's streets? Our streets."
The gathering included members of the neighborhood along with neighborhood council president Jan Mignone, District 6 city council representative Claudia Jimenez, District 2 city council representative Melvin Willis, Michelle Milam, Richmond Police Department Crime Prevention Specialist, and Sam Vaughn, Deputy Director of Community Services at the Office of Neighborhood Safety.
Vaughn briefly addressed the crowd before the walk.
"ONS is historically a gun violence intervention organization, but with the Reimagine Safety conversation and the city council's decision to enhance our budget, we were obligated to kind of veer away from that in certain situations, but always coming through a lens of gun violence. Gun violence has dropped drastically in the community a lot of folks don't understand that. But we had a homicide yesterday, and that is horrible. When we began, 85-90 percent of gun violence was associated with African American communities, and that is where we focused all of our resources. That's drastically changed. Last year 50 percent of gun violence is Latin-related and we feel we need to address the Latin community much more. I know the community here deserves to feel safe and deserves to thrive, and we know we don't want this going on in front of your houses and children," Vaughn said.
Florence Davis, a coordinator with Faith in Action, said the group plans additional walks in various Richmond neighborhoods in the coming months.

Davis hoped the walk would dispel common myths about human trafficking.

"About 90 percent of these women are victims. Sex workers are victimized, then society legitimizes the abuse. The neighbors' anger gets misrepresented and makes the problem worse," Davis said.