News
Cinco de Mayo parade set to return to Richmond and San Pablo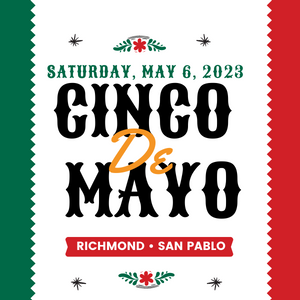 Previously a casualty of Covid, the Richmond and San Pablo Cinco de Mayo parade and festivities are now slated to make their return this year after a three-year absence.
The much-loved event is currently in the planning stages, and organizers are now seeking applications for the 15th annual Richmond and San Pablo Cinco de Mayo Peace and Unity Parade, a celebration of local community and solidarity, which will take place on  Saturday, May 6th.
The parade offers great opportunities for families and neighbors to cheer on youth scholars, athletes, artists, academic clubs, and teachers for their hard work, and to thank all of the great civic and private role models who live or work for us right here in Richmond and San Pablo.
Organizers say can't have a parade without you, so please don't miss the deadline to submit your application before Friday, April 21, 2023.
"Cinco de Mayo" is the commemoration of the poorly armed Mexican army's victory over a well-prepared French militia at the Battle of Puebla in 1862. Cinco de Mayo is celebrated in the United States as a day to recognize the significant contributions that Latino culture and traditions have brought to mankind.
In Richmond and San Pablo, this day is also a celebration that highlights the beauty, diversity, and accomplishments of our local neighbors, artists, students, and everyday champions.

At the Richmond and San Pablo Cinco de Mayo Peace and Unity Parade, everyone of all ages will gather and share in the spirit of peace and unity.

Not a publicly funded event; all fundraising and production are organized by volunteers.
Complete and submit your application form today!
Submit your form (below) by 5:00 pm on Friday, April 21, 2023.

GENERAL APPLICATION (EXCEPT Car Clubs, Motorcycle Clubs) General Application Form (Click on this link for the online form)
2. CAR CLUBS Car Club Application Form (Click on this link for the online form)
3. MOTORCYCLE CLUBS Motorcycle Club Application Form (Click on this link for the online form)-