Science
Geminid meteor shower visible this week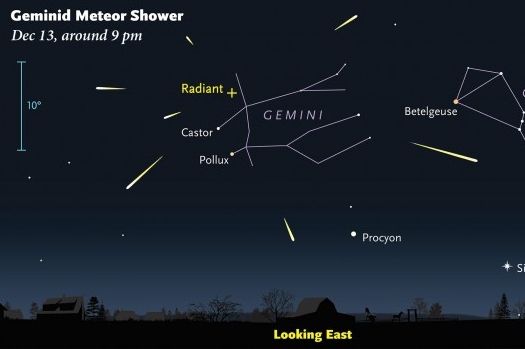 Despite the many lights from homes and businesses around Richmond, your own backyard is a great place to discover all the objects in the night sky, often without the help of a telescope or binoculars, and December is a great time to look up!

This week the Geminid Meteor Shower puts on a great show peaking December 13-14. This annual shower is often considered to be one of the best night sky events, sometimes producing more meteors per hour than the ever-popular August Perseids show.
Depending on how dark your street is, it is possible to see 60 to 120 meteors per hour. According to the local weather guys, viewing the meteor shower may be possible this week with minimal intervention from the fog and clouds.
The Geminids are a great choice because, unlike most meteor showers, they are active in the evening rather than after midnight, making it more convenient to get out and take a look, especially for the kids.
While the moon will be in the sky and may reduce some visibility, looking east around 10 p.m. is the best opportunity for viewing meteors. The radiant, the point in the sky where the shower emanates from, can be found just below one of the brightest stars in the winter sky, Castor, located in the constellation Gemini.

If you are unsure about locating Gemini, there are several apps that make navigating the night sky easy. Sky View Lite is a free app for your phone that is user-friendly and will help you discover meteors, planets, and more.