News
Park district considers mountain bike flow trail at Wildcat Canyon Park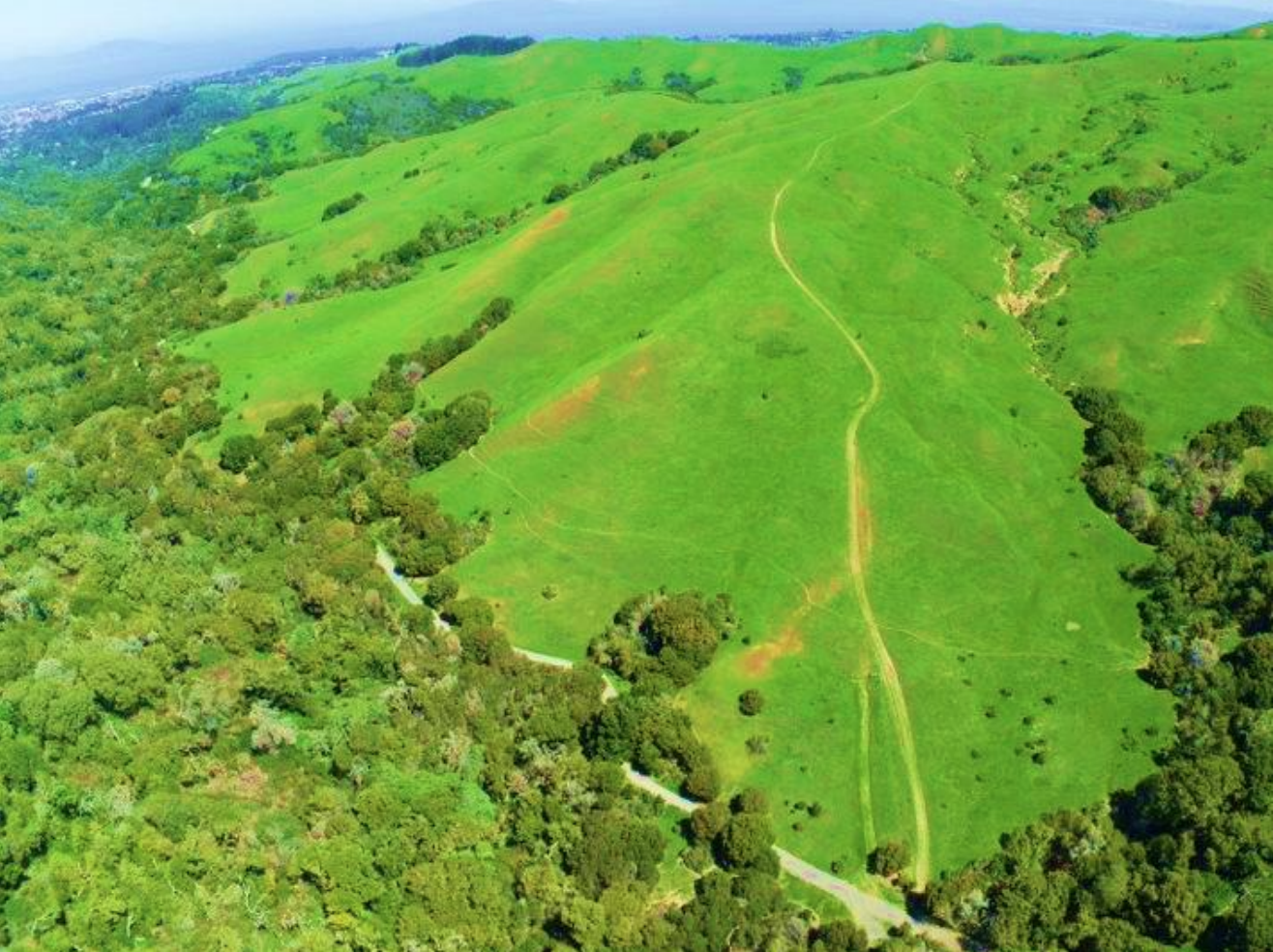 Members of local high school mountain bike teams came out in force to support a proposed mountain bike trail at Wildcat Canyon Park during a public workshop held by the East Bay Regional Park District last month.
The East Bay Regional Park District has received a lot of interest in developing a bike-specific downhill trail in the park, according to Brian Holt, Chief of Planning Trails & GIS for the park district.
"We are seeing very high demand and growth in mountain biking evidenced by the number of youth from the high school mountain biking community," Holt said at the April 25 meeting. "We have a high concentration of high school mountain bike teams that already use this park."


The park district also heard a lot of interest in single-use trails that would provide facilities for mountain bikes that separate them from hikers. A proposal came from the community expressing support for a flow trail near the Mezue Trail.
A flow trail is a single-track downhill trail designed for mountain bikes with large banked turns and small mounds. The course utilizes the natural contours of hills to maintain the bike's speed and zig-zags down the hill to maximize the limited space.
As the popularity of mountain biking increased, so too did mountain biking teams at high school and middle school near Wildcat Canyon and Tilden Parks. The Northern California chapter of the National Interscholastic Cycling Association (NICA) approached the park district in 2020 with concerns about the existing trail system's ability to accommodate the increased demand,
The park district says mountain bike teams are accumulating about 40,000 riding hours in a season on the same 30 miles of multi-use trails shared by all park users but are only allowed to ride on about 1.5 miles of single-track trails in the parks. This leads to frustration among all trail users and results in the increased use of trails that do not allow mountain bikes and the creation of illegal bootleg trails within the parks.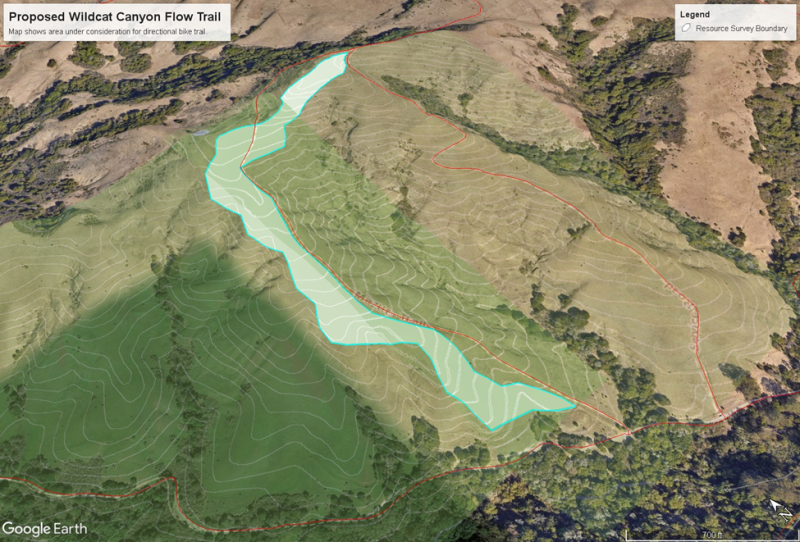 Proponents say the trail will ease congestion on busy trails and separate park users with different uses to avoid negative interactions and provide more interesting trails to ride.
The park district board asked staff to conduct resource analysis to understand if the trail was possible and didn't find any major red flags that would say this trail can't move forward, Holt said.
Suzanne Wilson, Senior Planner for the park district, said 400 riders and 80 coaches from high school and middle school mountain bike teams from Berkeley, Albany, El Cerrito Kensington, Richmond, and San Pablo areas ride the trails three times a week.
"This would be something that would be different from the multi-use trails that we see offered in Wildcat Canyon. This is something that would be specifically for cyclists to be able to develop skills and fitness to test themselves a bit," Wilson said.
Wilson said NICA, through a partnership with Trek's Pathfinders program, provides scholarships and bikes to underserved areas that might not otherwise have the opportunity or the means to participate in mountain biking.
"They are doing a lot of outreach to make sure that mountain biking reaches communities it typically hasn't reached in the past. The park district is also looking to provide mountain bike-specific access that would help meet some of those communities." Wilson said.
Edda Grondahl said her 30 El Cerrito High Mountain Bike Team members are excited about the prospect of a bike-specific trail.
"We ride there a lot during the week, and I think we'd be really interested in having more options to ride and practice skills that we don't get to practice elsewhere in the park," Grondahl said.
The park acted as an outlet and a place of connection during the pandemic. Many teens expressed gratitude to the park district for keeping the parks open.
"It was a lovely way to find community in a time when we couldn't really do that outside of mountain biking," Grondahl said.
Sandy Floren, a coach for the Berkeley High Mountain Bike Team and a former team member who went on to race professionally and won national championships, said east bay cyclists have unique access problems not seen elsewhere.
"We don't have dedicated single-use trails here," Floren said. "Part of the solution is having trails that mountain bikers can go down without hitting excess speeds like we do on fire roads currently, which scares people and frights dogs and other animals."
Berkeley High freshman Juliet Distefano said she and her teammates frequent Tilden and Wildcat parks. With two or three rides every week, she appreciates having the trails so close to home.
"I would love to see an MTB-only flow trail because it is a great opportunity to gain skills, experience the beautiful hills, relieve congestion on other trails, and give local teams something to maintain as a community," Distefano said.
Some attending the workshop felt the trail was not appropriate at Wildcat Canyon and expressed concerns about how this project will affect the surrounding trail system, environment, and other trail users.
The trail proposal has a lot of problems, according to Norman La Force, who spoke on behalf of the Sustainability, Parks, Recycling, and Wildlife Legal Defense Fund and the Sierra Club East Bay Public Lands Committee.

"It is unfortunate this process has gone forward without the park districts legally mandated and required legal process. This is going to be an issue. Unless the park district proceeds in a way that's legally proper, it is going to be a problem," La Force warned at the workshop.
Michele Rappaport lives within walking distance of the park and has used the Wildcat for 45 years spoke against the flow trail, likening it to an amusement park.
"Tilden doesn't let them ride bikes in Berkeley in the hills. That is because Berkeley people stand up and say no, you can't do it. But this is Richmond. This is near Richmond and San Pablo, and people are less privileged," Rappaport said. "By putting up an amusement trail, it seems like it really has some social and economic implications."
Dani Lanis from Rich City Rides, a nonprofit focusing on the most vulnerable members of society, supported the flow trail proposal.
"We support our vision and our mission by providing programming mainly through bicycles, but we are not just cyclists. We also hike, and we hike Wildcat Canyon," Lanis said. "We would like to be able to provide the opportunity of mountain biking to the communities that we serve without having to go across a bridge, having to pay, or having to drive to be able to participate in this fascinating sport that mountain biking is."
According to Heath Bartosh, a principal biologist with Nomad Ecology, no rare plants or sensitive natural communities were found in the study area. The ecological consulting firm conducted a Biological Resources Assessment and wetland delineation for the study area.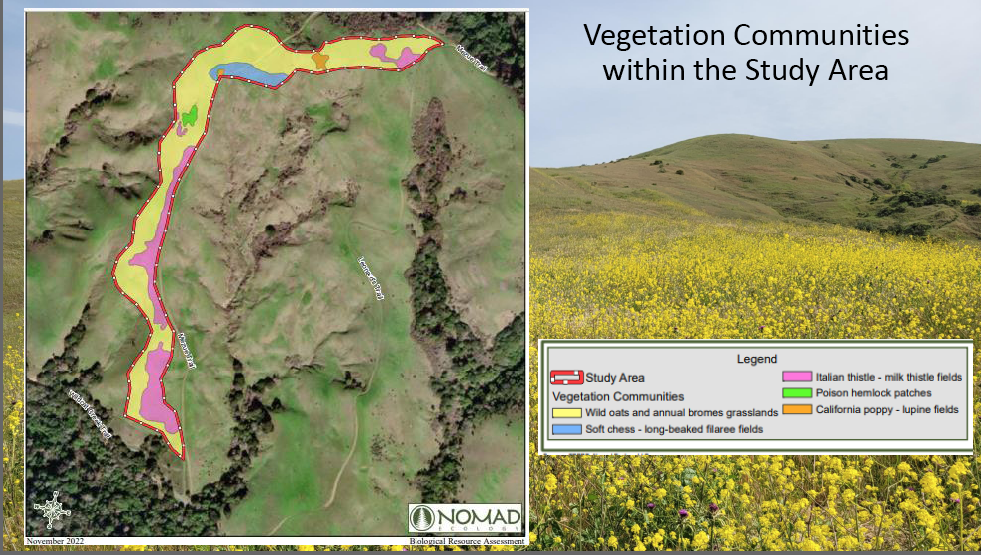 "We did not find any rare plants during the protocol level rare plant survey. The vegetation communities were dominated by herbaceous plants, mostly nonnative annual grasses. We did find a fair amount of invasive plants that have invaded the area within the study area."
There were a few patches of California poppies mixed with lupine, so there was a small native component, but for the most part, we were looking at a lot of species that were not native to California," he said.
The park district plans to continue seeking public comments, develop design concepts, and study the proposed corridor. View more information at www.ebparks.org/projects/wildcat-canyon-regional-park-wildcat-bike-trail