Entertainment
"And Then There Were None" comes to the Masquers Playhouse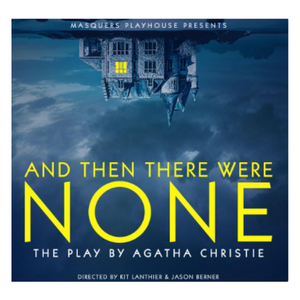 AND THEN THERE WERE NONE – January 27 – February 19:
By Agatha Christie / Directed by Kit Lanthier & Jason Berner

You know the story: ten strangers arrive on a remote island, and before long, they each meet a mysterious end. No matter how many times you've read the book or seen the play, Agatha Christie's classic thriller keeps audiences wondering right until the very end; who, if anyone, will survive!

This production, however, is just a little different. Offering a delightful twist on the original story, The Masquers production will feature two alternate endings, to be performed on alternating nights: Christie's original ending of the novel, and the updated 1943 ending of the play, also written by Christie.

The Masquers Playhouse is a community theater in Point Richmond that has been producing plays and musicals for more than 60 years.
It all began in 1955 when a group calling themselves "The Masquers," put on a few shows at the Hillside Community Church in El Cerrito. The success of those shows led them to seek a permanent homefor their production company, and in 1961 Masquers moved to their current location at 105 Park Place in Point Richmond.
The Masquers host a season of five productions, two of which are musicals. Each production runs for five weeks, offering performances on Friday and Saturday evenings, as well as a few Sunday matinees.
The Masquers also host several education and development programs. Stage One is a children's program where young people can learn the craft of making theater, and the Envision program, which produces a handful of short-run pieces that cannot be a part of a regular season.

Tickets are $30; seniors and students save 10%. Performances are on Fridays and Saturdays at 8 pm, and Sundays at 2 pm

Purchase tickets online by following the link, or by calling 510-232-4031.
The theatre can be reached by phone at (510) 232-3888