Get ready! This weekend, Richmond is packed with events and things to do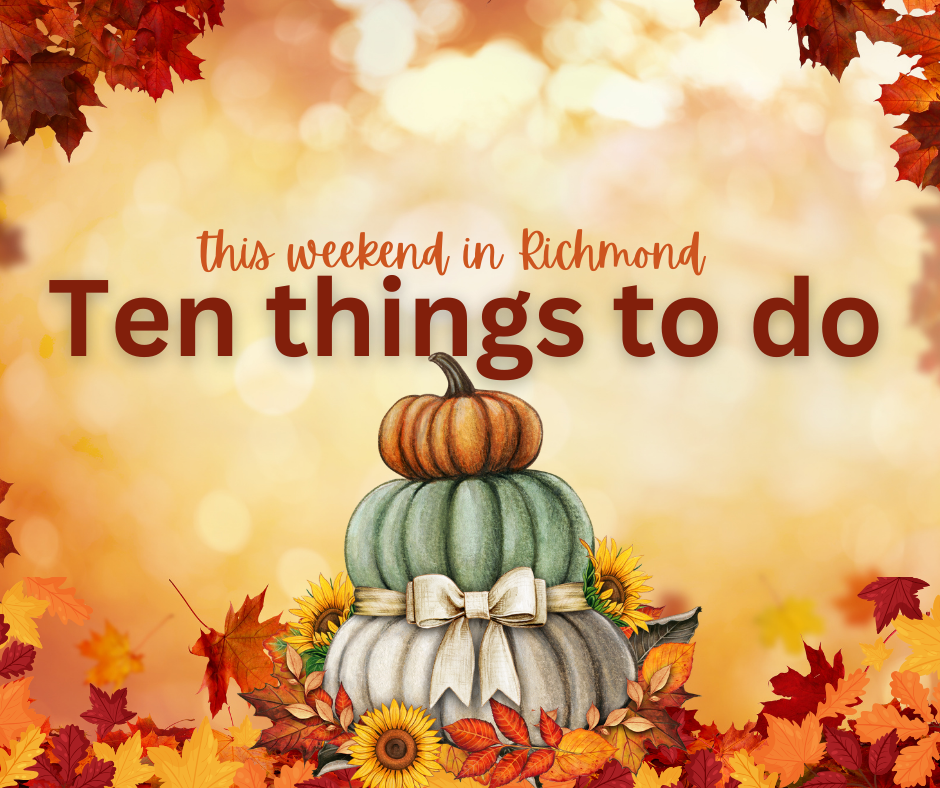 There's so much to do this weekend in Richmond we had to start the calendar a day early!
■ Artwork of Eric Carlstrom at the Linda Drake Gallery
The art of Eric Carlstrom is up at the Linda Drake gallery, located within El Sol, 101 Park Place, Point Richmond. Now through January 14th, brought to you by the Arts Of Point Richmond.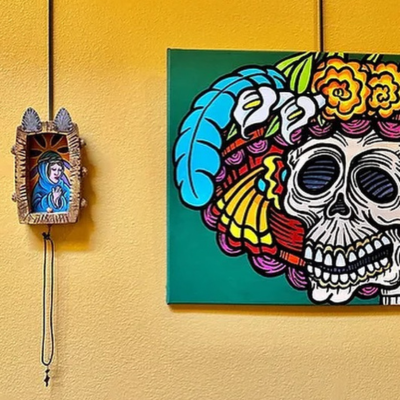 ■ YEAH, NO at the Rigger's Loft Wine Co
Thursday, November 9th, 6:00 PM 8:00 PM
Enjoy an evening of awesome rock covers. Come at 5 pm and enjoy Happy Hour pricing on glasses of wine and cider till 6:30 pm. And as always on Thursdays…a tasting line-up of wood-fired pizzas from Kitchen Loft. There is no music cover charge.
■ Veterans Day Fair in Richmond
Friday, November 10th, 10:30- 2 pm
The fair is free and will take place along Maine Avenue between S. 9th Street and Harbour Way. The street will be closed for this event. The opening ceremony will include the presentation of colors from De Anza High School. The flag presentation will honor 11 veterans. Lunch and refreshments will be provided.
■ LOWDOWN BRASS BAND at the Baltic Kiss
Friday, November 10th, 8:00 PM 11:55 PM
The LowDown Brass Band is a uniquely strong representation of Chicago Music culture. This talented all-horn hip-hop band leans heavily on dancehall and street-beat rhythm, with the energy of conscious hip-hop, jazz, reggae, and soul. LowDown maintains a constant performing and touring schedule throughout the globe. Recent performances include an opening run with Galactic, Bon Jovi, The Montreal Jazz Festival, World Music Fest, Vancouver Jazz Fest, Lagunitas Beer Circus, Chicago Jazz Fest, Frendly Gathering, Alaska's Salmon Fest, Chicago's Do-Division Fest, Wicker Park Fest, Wakarusa, and Cotai Jazz Fest, LowDown is currently touring their last two albums "The Reel Sessions" & "LowDown Nights," created during the pandemic. These albums dive deeper into their unique sound and show how the collective continues to push the genre further into the future and beyond.
■ POGO PARK FUNDRAISING PARTY
November 10th, 5:00 pm - 8:00 pm

Come to Pogo Park's Fundraising Party and help raise the urgently needed funds to build Harbour-8 Park's stunning new park and playground. Please join Pogo Park's staff and board and attend our Fundraising Party on November 10, 2023. We plan to celebrate Pogo Park's 2023 accomplishments — and raise the urgently needed funds to build a new park. 23 9th Street, Richmond, CA, United States
■ The Forger (2022) at the Magick Lantern Theater
21-year-old Cioma Schönhaus won't let anyone take away his zest for life, especially not the Nazis. He wants to discover life, but has the misfortune of living as a Jewish person in Berlin in the 1940s. Since the best hiding spots are in plain sight, Cioma decides to go out into the light to escape deportation. Using the identity of a marine officer he created for himself, he throws himself into the city's nightlife and even finds a fragile hope for love during the darkest moments of the war. Throughout the day, he forges IDs with just a brush, some ink, and a steady hand - and saves the lives of many others. His talent puts him in more and more danger, though, and at some point, Cioma's only hope to survive is a last forged ID - with his own name on it. 1hr, 56m History/Drama/Biography German/English Subtitles. Stay for the Film Discussion. Tickets online to 5 pm the day of the show. $15 Cash at the door. Please, no bills larger than $20. 201 West Martina St (side door) (off West Richmond) Questions? Contact Kate or Fred Call: (510) 232-2559 Fax: (510) 236-2566 Email: magick-lantern@att.net
■ RICHMOND-SAN RAFAEL BRIDGE TRAIL 4TH ANNIVERSARY RIDE
November 11th, 11:00 am - 5:00 pm
If you and your family haven't ridden the fantastic Richmond-San Rafael Bridge Trail yet, what better time to do it than with a fun group? And if you've done it before, do it again! RICH CITY Rides is hosting its 4th Anniversary ride to support keeping the Richmond-San Rafael Bridge Trail open. RICH CITY Rides is hosting its 4th Anniversary ride to support keeping the Richmond-San Rafael Bridge Trail open. Meet: 11 a.m. Roll: 12 p.m. Richmond BART Parking Plaza (use Richmond BART garage for GPS or 16th & MacDonald Ave). Bring friends & family members! You can do part or all of the ride, even if it's the 1st Bridge hump! Sign up and get more details at https://www.facebook.com/events/1468101317318577
■ Urban Tilth East Bay Local Seeds Harvest Celebration🫘🌱
November 11th, 12-3 pm

This Saturday, Urban Tilth celebrates the harvests of each gardener, sharing seeds and meals and even having a squash tasting. Everyone is welcome to come and celebrate! Hope to see y'all! Reach out with any questions.
■ Community Gathering Sailing Goat at Point San Pablo Harbor
Sun, Nov 12, 12:00 PM – 2:00 PM

Keren Gaiser, Itzik Lerner & Tal Vaisman
Old & new favorite Israeli songs, as well as a few familiar American songs. Proceeds from this event will go to ORT America's Emergency Fund.
Award-winning original artist, director, vocal coach, and actor Keren Gaiser has toured in the United States and abroad for the past two decades and has released numerous original albums, won honors, and was mentioned in articles, interviews, and magazines. Keren uses her expertise to inspire singers & performers of all ages to find their own voices and grow musically through her unique teaching and passion. She has raised generations of singers all over the world who have trained under her at her vocal studios 'Keren Studios.' Proceeds from this event will go to ORT America's Emergency Fund. Sailing Goat at Point San Pablo Harbor, 1900 Stenmark Dr, Richmond, CA
■ Live Music at The Backyard!
Sunday, November 12th
FREE LIVE MUSIC at The Backyard continues! Music by @niloayele from 1 to 4 pm! Live Music + Burgers + Beer
---
Help keep our content free for all!
Click to become a Grandview Supporter here. Grandview is an independent, journalist-run publication exclusively covering Richmond, CA. Copyright © 2023 Grandview Independent, all rights reserved.