Our picks for a great, fun-filled weekend!
Ready to pick up a new sport and have some fun? Join us for Pickleball at the Recreation Complex Gym on Fridays from 9:30 a.m. to 1 p.m. for ages 18 and up! Whether you're a seasoned player or a beginner, our friendly and supportive community will help you improve your skills and have a blast. And the best part? Pickleball is a low-impact sport that's easy on the joints, making it perfect for people of all fitness levels.
■ Artwork of Eric Carlstrom at the Linda Drake Gallery
Now through January 14, brought to you by the Arts of Point Richmond. @arts_of_point_richmond www.artsofpointrichmond.com/el-sol
Check it out, Pt. Richmond @elsoleastbay_.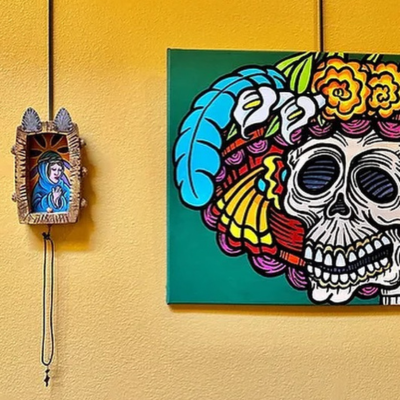 ■ JAZZ STANDARDS, BLUES, AND BOSSA NOVA at The Rigger's Loft
Well-known guitarist Lee Waterman will be performing with veterans Tim Campbell (keys) and Bob Scott (drums & vocals) to recreate the swinging sounds of great guitar/organ combos from the '50s & '60s, such bands as Jimmy Smith w/ Wes Montgomery and Jack McDuff w/ George Benson. The repertoire will include Standards. Blues, and Bossa Novas. Friday, October 20, 6 p.m. 9 p.m.
■ City of Richmond Fall Festival
The City of Richmond is bringing back the popular event, and all families are welcome. Kids can play fall-themed games, go on a pumpkin hunt with prizes at the end, go on a hayride, and ride a pony. Sat, Oct 21, 12 – 2  p.m. in Nicholl Park
3230 Macdonald Ave, Richmond, CA This is a free event and is open to the public.
■ MAGICK LANTERN Neighborhood Theater: THE QUIET GIRL (2022)
THE QUIET GIRL is an exquisite, beautiful, and heartbreaking Irish drama. The film follows an 11-year-old girl, Cáit who is sent by her dysfunctional family to live with foster parents for the summer. She quickly falls in love with the bucolic setting and her foster parents but discovers a troubling secret that threatens to destroy the idyllic world she has found. First United Methodist Church201 Martina St, Richmond, CA OCTOBER 21 @ 7:30 p.m. - 9:30 p.m. Event Series (See All)$15
■ Maker Faire at the Factory Bar
This Sunday, October 22, don't miss our second Maker's Faire! We have 15 local Artists and Artisans bringing their amazing work to The Factory Bar. From paintings to jewelry to chocolates to books! Our last faire in August was amazing, and we can't wait for this one. Here are just a few of the artists you'll see this weekend!

@CigarBoxKitchen
@elevator_13
@torreyannabarley
@elyibarra
@ballerbroadznbluntz
@big_top_sweet_shop
@qasikaycreations
@mcb_bookstore
@estherheartsart,
■ ALEX JORDAN at Baltic Kiss
Alex Jordan's Queen Kerosene is a melting pot of American roots music, stacked high with sharply-written songs that blur the boundaries between genre and generation. Helmed by four-time Grammy Awards-winning producer (and longtime Los Lobos member) Steve Berlin, it's a colorful, kaleidoscopic record whose songs make room for soul, Tex-Mex, groove-driven R&B, Americana, jazz, honky-tonk, and heartland rock & roll. "I love different tempos, different styles of music, different eras, and different artists," says Jordan, a Bay Area native whose eclectic career reflects his wide-ranging influences. "As a songwriter, there's where I'm coming from. I'm coming from a background that spans decades and genres, and Steve helped me boil that down into something specific." Sunday, October 22, 2023, 8 p.m. - 11:55 p.m.
---
Help keep our content free for all!
Click to become a Grandview Supporter here. Grandview is an independent, journalist-run publication exclusively covering Richmond, CA. Copyright © 2023 Grandview Independent, all rights reserved.