Community
8 Things to do this weekend: Red Oak Pancake breakfast, Blue Angels, art and music galore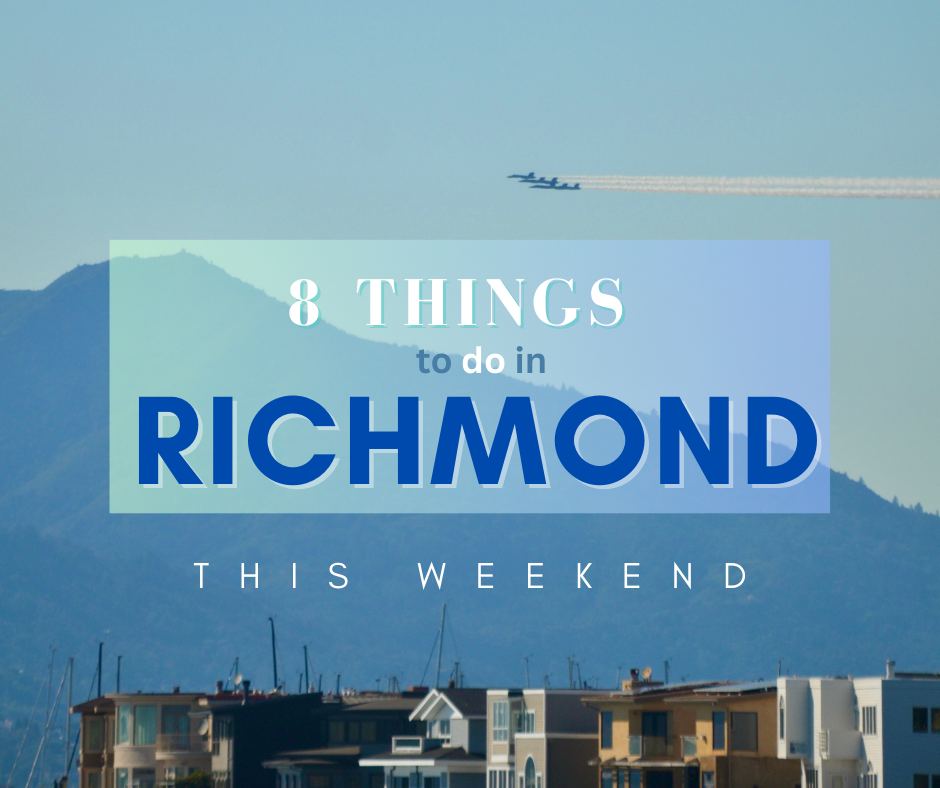 ■ 24th Street Block Party!
Friday, OCTOBER 6, 5:30 PM - 8 PM
24TH STREET BETWEEN LINCOLN & ESMOND, JOIN US TO MEET YOUR NEIGHBORS & DISCUSS COMMUNITY CONCERNS.
There will be snacks, games, and a raffle. The street will be blocked off, with access to parking for residents only.
■ First Friday Block Party at Windchaser Wine Co. w/ Special Guests
Live music, guest food and drink vendors, and more on Friday, Oct 6, 4 p.m. - 8:00 p.m. Don't miss the first of Richmond's new FRIDAY Nights Out with Rocky Island Oysters, Pickles N Smoke, and The Factory's Mobile Bar all at Windchaser Wines! Live music, great food, great drinks, and great people! The party starts at 4. Windchaser Wine Co, 1352 S 49th St, Richmond, CA.
■ Richmond Art Center Fall Family Day
We're coming together on Saturday, October 7, 12 p.m.-3 p.m. to lift up and celebrate Indigenous Peoples' Day through art making. Fall Family Day will feature a community mural with Luis Garcia, Powwow reading corner, drop-in art-making activities, games, music, and vendors. The free event is open to kids of all ages and their grown-ups. No RSVP is necessary.
■ Dining Gloriously from your small space "Kitchen Garden"
Dining Gloriously from Your Kitchen Garden, A Free Talk & Book Signing with author Pam Peirce, renowned author of the Bay Area gardening classic Golden Gate Gardening, and learn how to grow and get delicious meals from your small "kitchen" food garden -  including the best crops, ideal planting seasons, plus useful recipes. Afterward, Please enjoy some free refreshments. PLUS Pam will be signing the latest 30th Anniversary, 4th Edition copies of her book. Saturday, October 7 at 10 a.m.  Annies Annuals 740 Market Ave., Richmond, CA 94801
■ The Mighty Neptunes New Orleans, Memphis, Mississippi, and Chicago blues, seasoned with a hefty dose of Oakland funk at the Sailing Goat Restaurant
The Mighty Neptunes are a 4-piece band performing a cool blend of classic blues covers, soul, and classic rock along with original compositions. This Alameda and Oakland, California-based group will give you a taste of New Orleans, Memphis, Mississippi, and Chicago blues, seasoned with a hefty dose of Oakland funk. Built on a rock-solid rhythm section, Tansy Stark's soulful lead vocals and Kevin Kearney's smoking guitar riffs will get your attention before the first twelve bars have finished. The band encompasses a plethora of musical talent, and their first album release, "American Blue," is highly regarded by reviewers and is available on iTunes, Amazon, and CD Baby. Sailing Goat at Point San Pablo Harbor, 1900 Stenmark Drive. Saturday, October 7, 4 p.m. – 7 p.m.
■ BLUE ANGELS & JUKE JOINT at Rigger's Loft
WATCH THE BLUE ANGELS WITH THE R&B SOUL TUNES OF JUKE JOINT! Juke Joint is a fantastic 6-piece horn band playing tribute to the classic Soul and R&B music of the 1960s and 1970s. Performances include tunes by such legendary performers as Otis Redding, James Brown, Wilson Pickett…some of the greatest dancing (and listening) music ever written! View the Blue Angel's antics from our waterside patio. Indulge in great wine, cider, and The Kitchen Loft. Sunday, October 8, 2023, 1 p.m.  5 p.m.
Our last Pancake Breakfast for 2023 is Sunday, October 8, and marks the last weekend day of San Francisco Fleet Week. Get your breakfast, take a tour of the ship, and listen to the George Cole Trio in the morning.  Then, in the afternoon, stay on board and watch the Fleet Week Airshow, including the Blue Angels, over San Francisco Bay.
■ Point Richmond Gallery Opening Reception for Slow Frequency: Paintings and Objects of Meditation of Rick Gradone
Sunday, October 8, 2023, 3 p.m. - 7 p.m.
Slow Frequency: The Painting and Objects of Meditation of Rick Gradone
Exhibit Opening Sunday, October 8, 2023, 3 p.m. to 7 p.m.
Join us in celebrating artist Rick Gradone's Paintings and Objects of Meditation. The artist will be joining us to share his insight and inspiration for his art. All are welcome.
---
Help keep our content free for all!
Click to become a Grandview Supporter here. Grandview is an independent, journalist-run publication exclusively covering Richmond, CA. Copyright © 2023 Grandview Independent, all rights reserved.