13 creepy things to do: Richmond Halloween event guide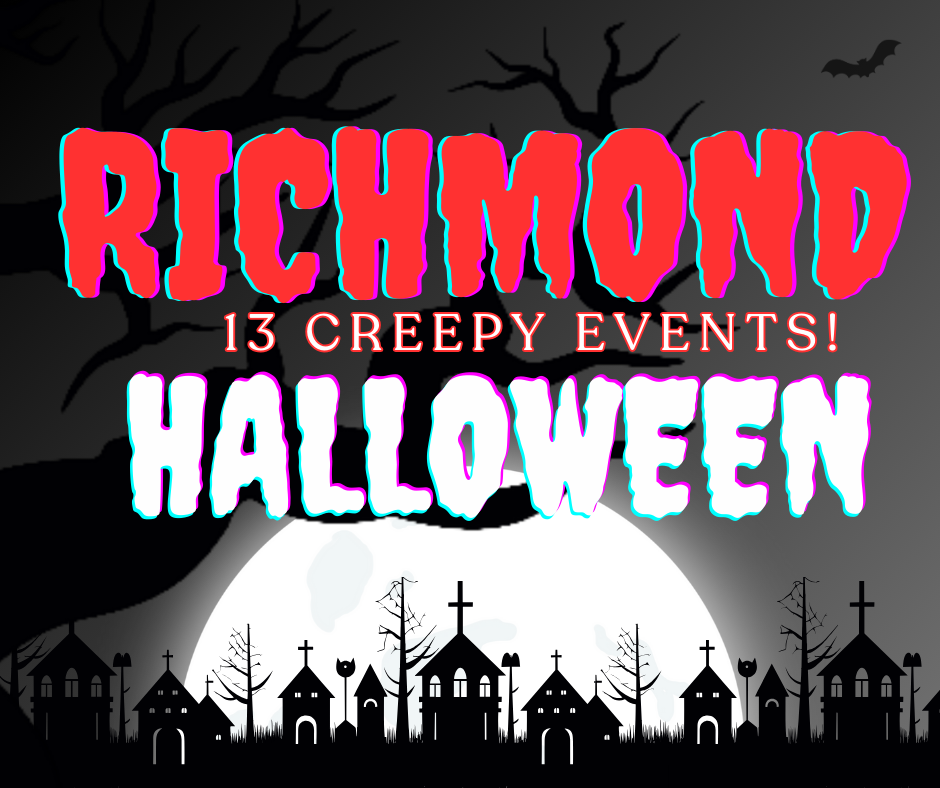 ■ Viva Space Vegas!
Greetings Humans! We welcome you to Viva Space Vegas! – the zillion-star-rated entertainment capital of the galaxy, conveniently located at 126 Buena Vista, Richmond, on the family-friendly Red Planet, where the fun never sets!
Visit any time of day and venture down the "strip" ... if you dare.
But lights and fog come on every night from about 6 to 9 p.m., Earth time, from now through Halloween. Prepare for the adventure of your lifespan! And remember: In Space Vegas, no one can hear you scream.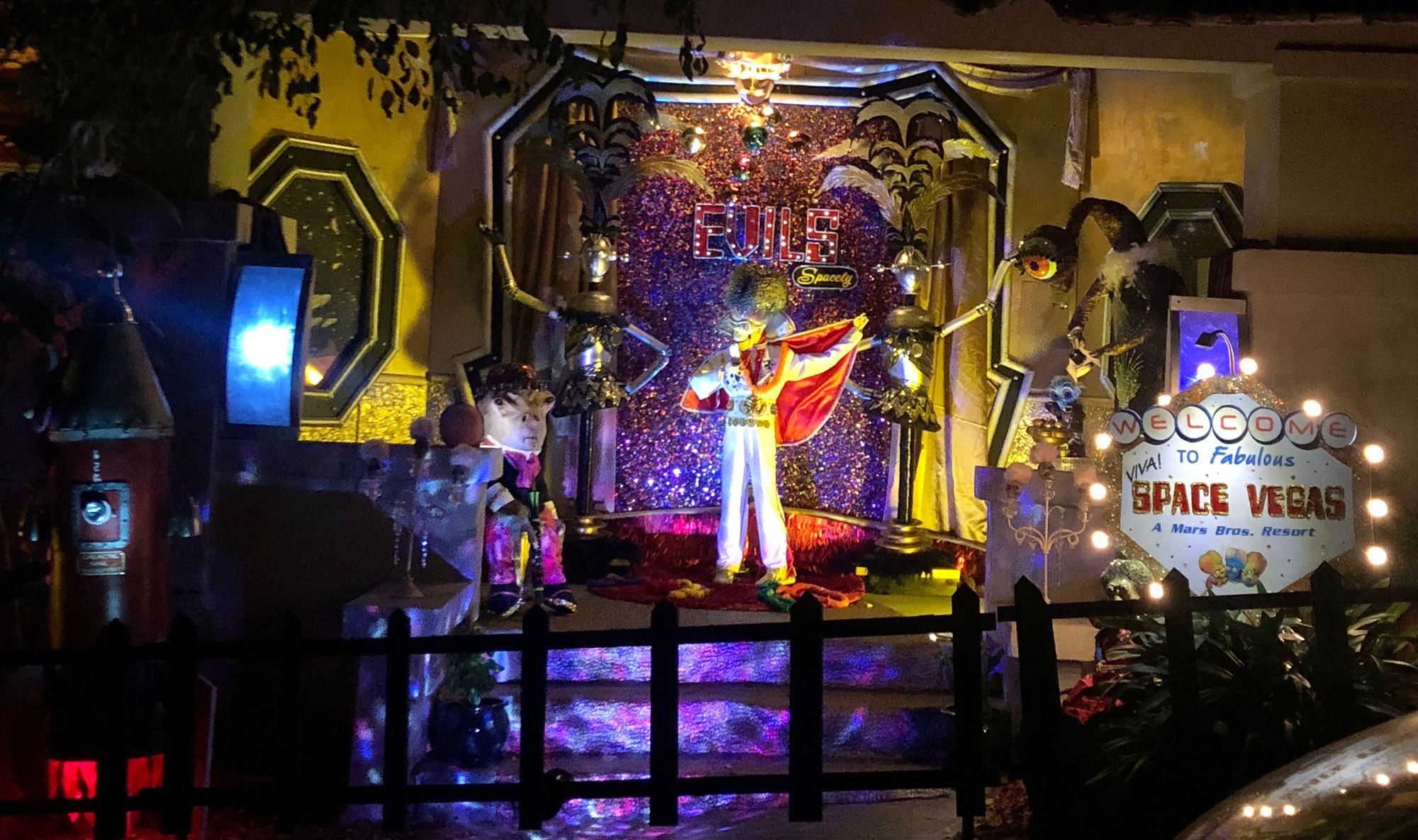 ■ Leftside Printing Presents Haunted Mansion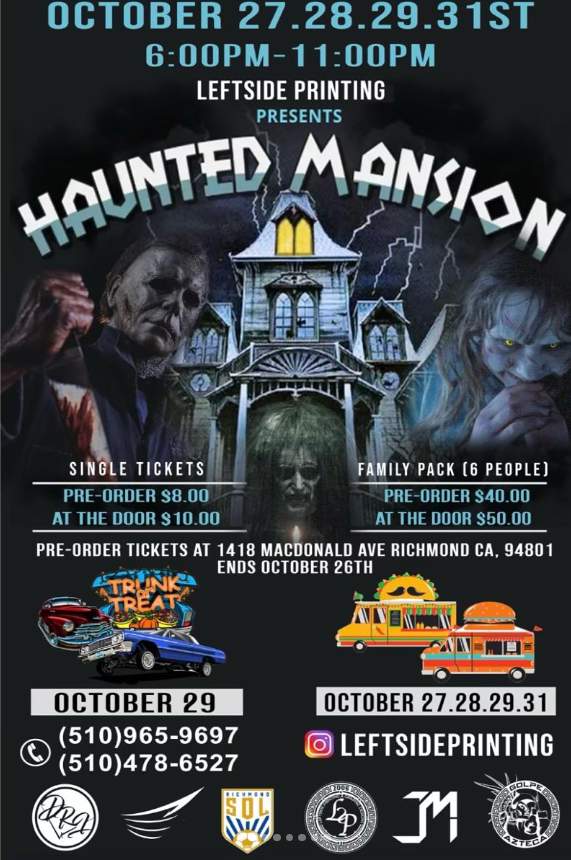 ■ Nightmare at the Factory Bar
The Factory Bars annual night of terror is only a few days away. This Saturday!
Music by @sirslushalot Food by @goldengate_bistro Don't miss the costume contest with prizes and the infamous Wheel of Misfortune for those who dare to take a spin. Saturday, October 28, 5 p.m. – 6 p.m.
■ Cops and Goblins
Join us for trick-or-treating at the Police Department during this spooky event. Dress up and bring a bag! 1701 Regatta Blvd Richmond Saturday, October 28, 10 a.m.-2 p.m.
■ Hilltop Community Church Trunk or Treat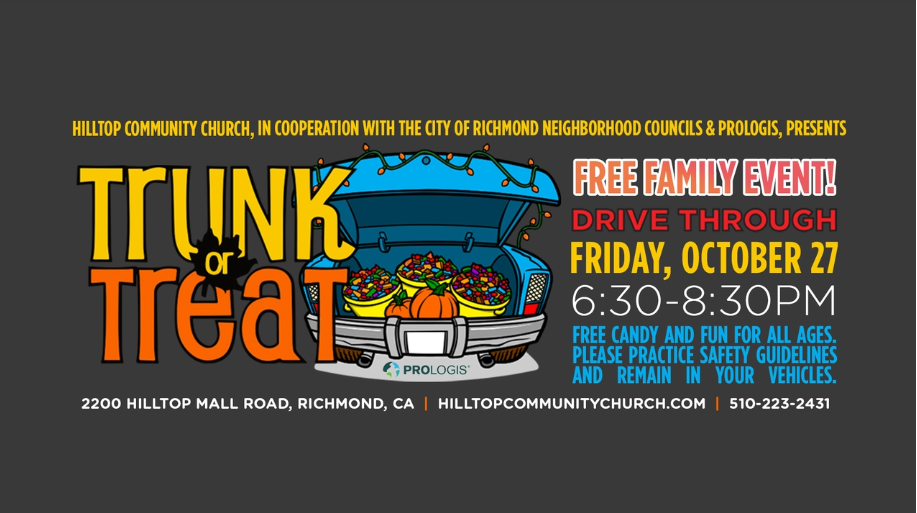 ■ Haunted Halloween History Hike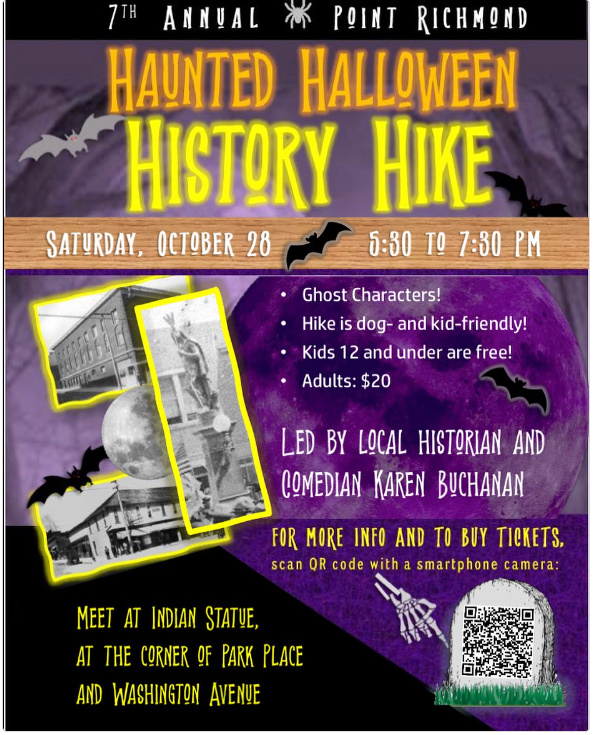 ■ POINT RICHMOND FALL FEST OCTOBER 28 @ noon - 5 p.m.
Come enjoy a fun day in the sun with three live bands, food and drinks, margaritas, snow cones, a pumpkin patch, and kid's activities, including a deluxe video game truck, carnival games, face painting, and pumpkin decorating.
Live Music
Deluxe Video Game Truck
Pumpkin Patch
Arts & Crafts
Face Painting
Vendor Booths
Festival Food and Beverages
The Point Richmond Fall Fest is a long-standing fundraiser tradition supporting local non-profits and the Washington School PTA.
■ Floating Pumpkin Patch at the Richmond Plunge
Splash into the Halloween season with a floating pumpkin patch. Admission includes a pumpkin to take home. Two sessions are available; all children eight and under need to have an accompanying adult in the water. Sat, Oct 28, 1:15 – 3:30 p.m. 1 E Richmond Ave., Richmond, CA
■ Annie's Annual's Halloween Spooktacular!
This weekend, Annie's Halloween Spooktacular! Fun for all ages. There'll be garden talks, a pumpkin & succulent centerpiece demo, a kid's talk all about bugs, Kid's crafts, Kid's Trick or Treating, Face Painting, Food, and of course, FREE Raffles and Annie's Supermarket Sweep where lucky winners will get 15 minutes of free plant shopping. Saturday, Oct. 28, and Sunday, October 29, from 10 a.m. to 2 p.m. Annie's Annuals & Perennials Nursery, 740 Market Ave., Richmond COSTUMES: Come in costume for a special surprise. www.anniesannuals.com/parties/
■ 2nd Annual Halloween Block Party on 33rd at Esmond!
Neighbors, please join us on the Sunday before Halloween for our 2nd Halloween Block Party! The last one was so much fun; we loved seeing neighbors meet and connect, kids meeting other kids on the block, and having a few hours to hang out together. Please bring some food or non-alcoholic beverages to share, and if you like, come in costume!...we'll have Live music by Phosphorus (@PhosphorusMusic on IG), some seating, tables, some games, and lots of good vibes...doggies/bikes/scooters, etc. all welcome. Please invite your friends/family and help us spread the word. **One of the best ways we can create safety in our neighborhood is to know and look out for one another.** Can't wait to see you all on the 29th! -Danielle & Family and Theresa & Marcial with Sequoia Real Estate
■ Trick or Treat on 23rd
Get ready to have a spooktacular time filled with candy, costumes, and community spirit. On Tue Oct 31, 2023, starting at 4 p.m. between Barrett and Rheem Ave. Put on your most creative costume and bring your friends and family along for an evening of Halloween fun. Whether you're a fan of spooky ghosts, wicked witches, or adorable superheroes, this event welcomes everyone to stroll down 23rd Street and feel the Halloween spirit in the air. Check out the Halloween Hub at 871 23rd St and join the fun!
■ Halloween at the Baltic Kiss with JUNK PARLOR
Junk Parlor is that crazy-rare band whose vibe is so driven by joyful schizophrenia that it transcends easy genre trappings. Born from the wild musical wanderings of Jason Vanderford, renowned for his five years recording and touring with gypsy jazz sensation The Hot Club of San Francisco, their energizing musical collage includes 50's rock and roll rumbling atop gypsy rhythms, a bit of Gypsy Rhumba, tango, Eastern Euro/Hungarian music, Bellydance, punk…Vanderford was raised on "rock and roll and punk and everything under the sun," so other sounds are certain to appear as the gypsy junk rockers continue their jam. Tuesday, October 31, 2023, 9:30 p.m. - 11:55 p.m.
■ HALLOWEEN FEST at The Backyard is BACK! 🎃🎉
Tuesday, 10/31, from 2 p.m.-9 p.m. 🥳 We will also be celebrating our one-year anniversary as a business!!! 🤯😍🌴 Halloween Fest is a community gathering featuring FREE live music by @niloayele and @redeyegypsy 🎸 games 🏓 trick-or-treating 🍬 our second annual costume contest 👻 pumpkins 🎃 + all of the Backyard eats 🍔 and #local beer and wine you know and love! 😋🍻🍷 Come celebrate with us!!! #richmondbackyard📍205 Cutting Blvd.
---
Help keep our content free for all!
Click to become a Grandview Supporter here. Grandview is an independent, journalist-run publication exclusively covering Richmond, CA. Copyright © 2023 Grandview Independent, all rights reserved.