Entertainment
Nine Things to do in Richmond: Pumpkin Patch, Spirit Soul Festival, and a Solar Eclipse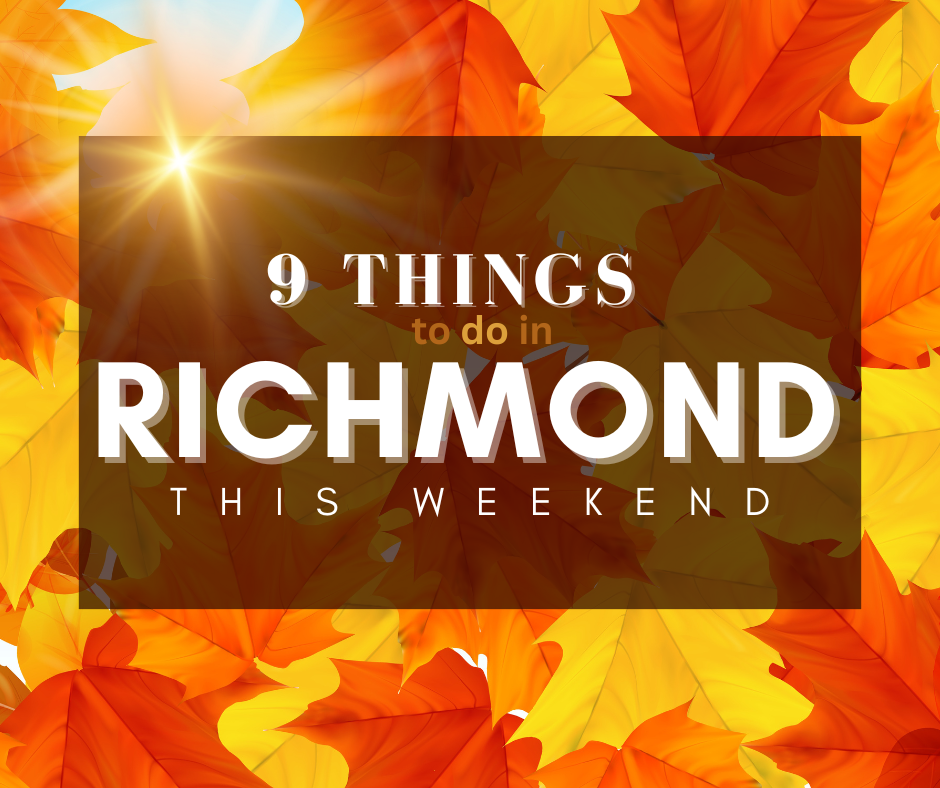 ■ Annual Eclipse Viewing Party Richmond Library Main Courtyard
9-10 am Saturday, October 14th Free solar viewing glasses. Eclipse is at
9:19 am, so don't be late!
■ Pick of the Patch Pumpkin Patch at Hilltop Mall
This pumpkin patch offers tons of inflatable fun for children ages 2-12 and is a great location for Birthday Parties, School, Non-Profit, and Mommy and Me Groups – Book Your Tour Today! Besides the giant inflatable fun, this lot offers lots of different varieties of pumpkins and a wonderfully decorated "memory zone" to take pictures of your little ones. Lot Hours: Saturday and Sundays from 10 am to 10 pm.
■ Spirt and Soul Festival
🌟 Join us at the Spirit and Soul Festival on Saturday, October 14th in Downtown Richmond! 🎉 Embrace the vibrant spirit of our community as we come together to celebrate unity, culture, and diversity. 🎊 Here's a breakdown of the exciting activities awaiting you: 🎵 Live Music & Dance: Get ready to move to the rhythm of soulful tunes and experience the richness of diverse dance performances. 🕺💃 Our talented local artists will fill the air with music that resonates with the heart and soul. 🎨 Artisan Market: Explore the creativity and craftsmanship of our local artisans. 🎨 From unique handmade jewelry to exquisite paintings, discover treasures that reflect the soul of our community. 🍔 Food Delights: Savor a delightful array of flavors at our food stalls. 🍔🍦 Indulge in soul food classics and international cuisines that showcase our city's culinary diversity. 🎭 Interactive Workshops: Engage in exciting workshops that offer immersive experiences. 🤹‍♂️🎭 From arts and crafts to dance lessons, there's something for everyone to learn and enjoy. 🤗 Community Bonding: The Spirit and Soul Festival fosters a sense of togetherness among neighbors and friends. 🤝 Strengthen community ties as we share stories, laughter, and create lasting memories. 🌳 Family Fun Zone: Bring the whole family! 🏞️ Enjoy a day of laughter and play with our family-friendly activities, including games, face painting, and much more.
■ FALL RIDE – RICHMOND BART TO POINT PINOLE
Join Bike East Bay for this Fall Ride Series collection of family-friendly rides exploring excellent trail projects in the East Bay. You'll learn about the surrounding area and explore favorite routes on these low-key rides. Enjoy awe-inspiring nature and sweeping views of San Pablo Bay with this fun and relaxed ride. Ride with us! Location: Richmond BART (West Side Plaza), 1700 NEVIN Ave, Richmond, CA 94801. To register, click here. Saturday, October 14th, 10-2 pm
■ ALEX LORA - EL TRI 55 ANIVERSARIO
Richmond Memorial Auditorium Sat, October 14 - 7:00 Pm
For ticket information, click here
■ Point San Pablo Harbor final Live on the Waterfront party
We saved the best for last! This Saturday, October 14th, is the final Live on the Waterfront party of the season, and it is going to be a blast. High Step Society & Jazz Mafia's Grateful Brass together in the Bay Area at last! Don't miss it. Two of Point San Pablo Harbor's favorite bands return for a show TOGETHER! The last party of the season is going to be an absolutely amazing night of music, dancing, and fun.
■ AMY UKENA - JAZZ ON THE DECK at the Baltic Kiss
Amy Ukena is a jazz vocalist. A veteran of stage and concert halls, Amy brings the music alive with grace and laughter. Her voice ranges from a bluesy growl to a sweet caress as she interprets songs from the best of Tin Pan Alley through the decades to Nora Jones and Leon Russell. (She's also a pretty dang good ukulele player!) She is backed by guitarist Hans Raag (Naked Barbies, Preacher Boy and the Natural Blues, The Natives, Strange Angels. Raag & Norton), bassist Larry Lawson (Michael Van & The Movers, Strange Angels, Bob Ward and the Cigar Band) and drummer Steve Pearson (Laura Benitez and the Heartache, Kate Burkart Band, Mike Hellman, Lucy & the Long Haul, Moonshine Maybelline, Secret Town, Third Date, Strange Angels). Sunday, October 15, 2023
4:00 PM 7:00 PM
■ BOB RODEN QUINTET at the Rigger's Loft
VERSATILE JAZZ ENSEMBLE THAT PLAYS A WIDE VARIETY OF JAZZ TUNES. The Bob Roden Quintet is a versatile jazz ensemble that plays a wide variety of tunes, from jazz standards to bebop, from ballads to Bossa, with trombone and saxes and lovely vocals. Roden's high level of musicality and spontaneity makes people feel good and definitely gets your feet tapping! Sunday, October 15, 2023 2:00 PM 5:00 PM
■ Salesian High School Open House
This is a wonderful opportunity for families to visit the entire campus, speak with Salesian students, faculty, guidance counselors, coaches, and administrators, and take a student-led tour! Join us to learn why Salesian is the Home of Champions in the classroom, within the community, and on & off the court. Come meet our team and explore our 21-acre campus! Guests will receive a $25 discount on the admissions application. Sunday, October 15th
---
Help keep our content free for all!
Click to become a Grandview Supporter here. Grandview is an independent, journalist-run publication exclusively covering Richmond, CA. Copyright © 2023 Grandview Independent, all rights reserved.